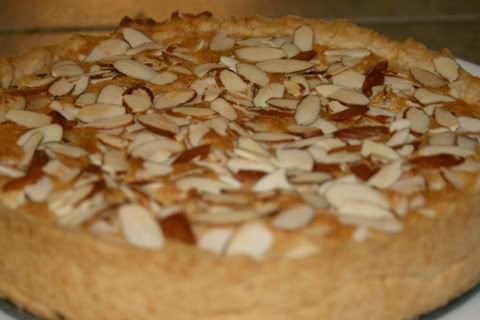 I'm not really sure what to call this, if it's a cake, a pie, a tart, or something else. So I'll just call it GOOD. I love almond. I mean, I'm just crazy about it. I have almond lotion, soap, lip balm, incense, candles and air freshener. I love it! Oddly enough, though, I've not cooked many almond treats. I picked up a tube of almond paste at the store last week, figuring I could find some use for it, and this is it.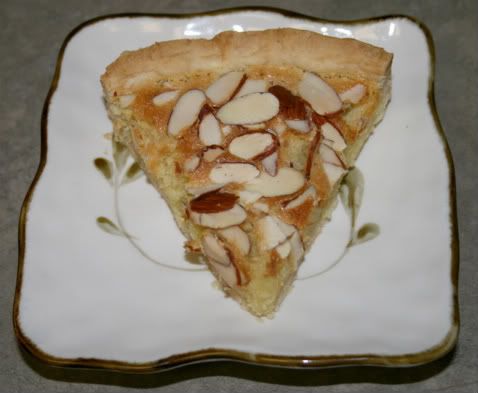 This cake kicks ass. The crust is delicate and crumbly, and the filling is wonderfully almondy, and just barely sweet. Perfect for enjoying with a cup of tea. Yum!
Next time I make this, I think I'm going to try spreading a layer of raspberry jam over the crust before pouring in the filling. Oh, baby!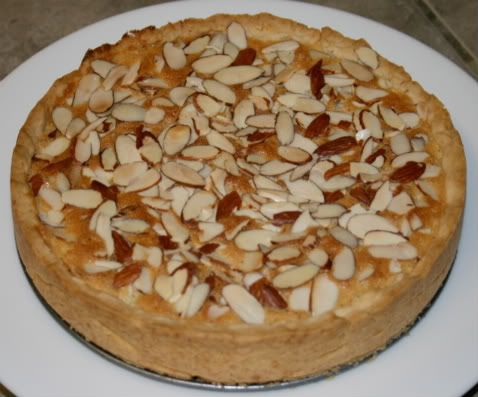 Almond Cake
Crust:
1 stick butter, softened
1 1/2 tsp sugar
2 egg yolks
1 1/3 cups flour
Filling:
1 stick butter, softened
7 oz. almond paste
2 eggs
zest of 1 small lemon
1/2 tsp almond extract
2 tsp flour
1/2 cup sliced almonds
For crust:
In a stand mixer fitted with the paddle attachment, cream butter and sugar until fluffy. Beat in egg yolks, combining thoroughly, then mix in flour. Gather into a ball, and place on a piece of plastic wrap. Flatten into a disk about 6 inches across. Wrap and chill 30 minutes.
For filling:
In a stand mixer fitted with the paddle attachment, cream butter. Crumble almond paste in a little at a time, combining thoroughly. Add eggs, lemon zest, almond extract and flour (reserve almonds for topping). Set aside.
To assemble:
Preheat oven to 350. Grease bottom and sides of an 8-inch springform pan with cooking spray. On a lightly floured surface, roll dough into a 10- to 11-inch circle. Ease into pan, fitting over the bottom and about 2 inches up the sides. If the dough falls apart, lightly press it into place with your fingers. Spread the filling evenly into the crust. Sprinkle with sliced almonds.
Bake 45 minutes. Allow to cool 10 minutes before removing springform collar. Serve at room temperature.