Ok. I have to admit. I'm all kinds of proud of this dish. I've never eaten a tamale pie before, let alone cooked one, and had only looked at a few recipes in the past to get an idea of how they're made. Then tonight I hit the kitchen and started cooking. I threw in this and that, random stuff that I thought would taste good, and then topped it with some of the
vegan cornbread
batter that I made last week. This was my first time cooking yellow lentils, and I was surprised to see that they cook down very mushy, unlike the brown lentils (sorry, I don't know the actual term for them) that I've cooked before. So they didn't hold their shape and were pretty mushy, but that allowed them to blend almost invisibly into the filling. Secret hidden protein and fiber! You can't beat that!
This stuff is SO GOOD. I mean, good in a there-aren't-even-words-to-describe-it way. The filling is incredible, and the cornbread compliments it perfectly. It's really filling, and soooo good for you with all the lentils and soy beans. Yum! Brad and I absolutely loved it, and the kids really dug this, too, so it was an all-around success. Yeah!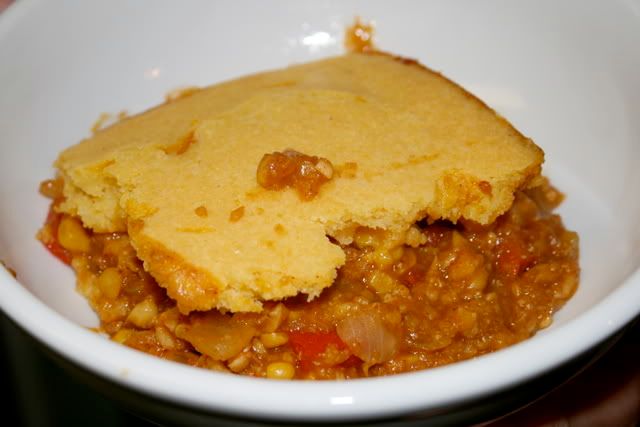 In other news, I have a job! I interviewed this afternoon, and was offered the job about 10 minutes later. I start tomorrow morning. It's a student worker position, 25 hours a week, with the opportunity for additional work most of the time if I want it, with a totally flexible schedule. It doesn't pay much -- in fact, I haven't made this little per hour since the last time I was in college -- but it is a student position, after all, so I'm fine with that. Mostly I'm just thrilled to have a job that will likely last for the remainder of time that I'm a student here, and will be totally flexible around my class schedule. There's SO much to be said for that. So I start in the morning, and will probably take some Tamale Pie leftovers for lunch. ; )
Oh, and I'm not going to post a picture of the filling by itself, because it looks downright nasty. But trust me, it tastes downright awesome.
Tamale Pie
Filling:
1 cup yellow lentils
3 cups water
1 8-oz package tempeh
1 medium onion, diced
1 red bell pepper, diced
1 can cream style corn
1 tsp salt
1 Tbsp cumin
2 Tbsp chili powder
4 oz cheddar flavored soy cheese, grated
Topping:
1 cup soy milk
1 tsp vinegar
1 cup cornmeal
1/2 cup flour
1 tsp baking powder
1 tsp salt
1/4 cup canola oil
For the filling:
In a medium saucepan, combine lentils and water. Bring to a boil, reduce heat and simmer 15 minutes. Drain in a fine-mesh sieve, and set aside.
In a separate saucepan, bring 4 cups water to a boil. Add tempeh, reduce heat and simmer for 10 minutes. Remove from pan and coarsely chop or crumble. Set aside.
In a large skillet over medium-high heat, heat grapeseed oil. Add onion, and saute several minutes, until the onion begins to soften. Add the bell pepper and saute a few minutes more, until vegetables are soft. Add drained lentils, chopped tempeh, corn, salt, cumin and chili powder. Stir to combine thoroughly and heat through. Adjust seasoning to taste.
Preheat oven to 375. Grease a wide, shallow baking dish with cooking spray. Spread the filling evenly in the dish, and sprinkle with cheese. Set aside while you prepare the topping.
For the topping:
In a small bowl, combine soy milk and vinegar. In a medium mixing bowl, whisk together cornmeal, flour, baking powder and salt. Add canola oil to soy milk mixture, whisk together, and pour into cornmeal mixture. Stir just until combined.
Pour the cornmeal mixture evenly over the filling. Bake in preheated oven for 30 minutes, or until cornbread is lightly browned and the filling is bubbly.