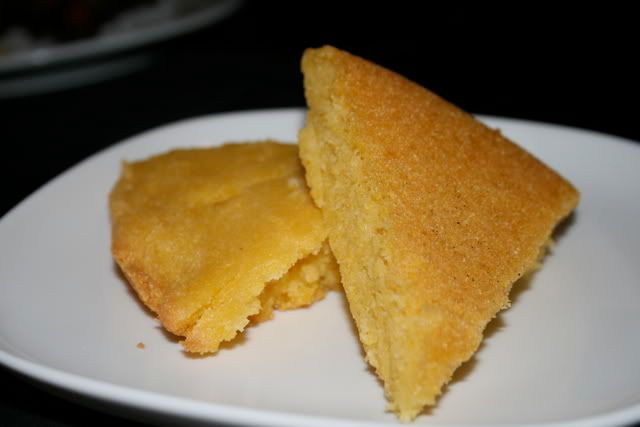 I've been on a quest for a long time to replicate Brad's great-grandmother's cornbread. Granny Smith evidently made the most fabulous cornbread anyone has ever tasted. Sadly, I never had a chance to try it for myself, so I've kind of been flying blind here. I must have made two dozen different cornbread recipes over the past year, and I've come close, Brad tells me, but never quite gotten there. I'm a yankee, you know, so my experience with cornbread has been mostly sweet and fluffy, not the dense, gritty, often flourless cornbread that y'all are familiar with down here.
Brad's stepmom Jaimie made cornbread when my parents were visiting. I didn't know that she had Granny's recipe (I was under the impression all this time that Granny had never shared her recipe before she passed away), and it turns out that after all my attempts at making it from scratch, Granny actually used a mix. Go figure. She doctored it up some, so it wasn't just a straight mix out of box, but I was still surprised, as you can imagine. Kind of like
that episode of Friends
where Monica spends forever trying to make chocolate chip cookies like Phoebe's grandma, only to find out that they were just the cookies from the back of the bag of chocolate chips. ; ) I haven't gotten the recipe from Jaimie yet, so I haven't tried it for myself, but I'm looking forward to it!
We wanted cornbread with our rice and beans tonight, and since I didn't have any buttermilk on hand, I decided to go ahead and try making vegan cornbread. I mean, come on...cornbread isn't really worth making without buttermilk anyway, so I might as well try the vegan way, right? I based my recipe on
this one from Post Punk Kitchen
, but modified it somewhat.
The results? Holy crap. I think this is my favorite cornbread I've EVER made. I wasn't even expecting to like it, to be perfectly honest, but it was incredible! Brad tried it before me, and said it was good. I asked if it was good for vegan cornbread, or just plain good for cornbread, period. He said it was good for cornbread, period. Yes!
You could make this lighter by leaving out the shortening in the skillet. But why would you want to?
Oh, and I like to put honey on my cornbread, but Brad said that's a bastardization of everything that is Southern cornbread. I say, whatever, dude. This yankee don't care.
Southern Vegan Cornbread
1/4 cup vegetable shortening
1 cup soy milk
1 tsp vinegar
1 cup cornmeal
1/2 cup flour
1 tsp baking powder
1 tsp salt
1/4 cup canola oil
Place shortening in a shallow cast iron skillet. Set oven to 400 degrees, and place the skillet and shortening in it while it preheats.
While the oven is heating, mix the batter. In a small bowl, combine soy milk and vinegar. In a medium mixing bowl, whisk together cornmeal, flour, baking powder and salt. Add canola oil to soy milk mixture, whisk together, and pour into cornmeal mixture. Stir just until combined.
When the oven is heated, remove hot skillet from oven, and pour the batter into the hot oil. It should be hot enough to sizzle at this point when you pour the batter in. Using a small spoon, scoop up some of the melted shortening that rises up around the edges, and drizzle it over the top of the batter.
Bake 20 minutes, or until golden brown. Let cool in the pan for a few minutes, then invert it onto a plate. Cut into wedges and serve.