It's time again for Tuesdays with Dorie! This week's recipe, Traditional Madeleines, was chosen by Tara of
Smells Like Home
. I was really excited about this week's recipe, because I've always wanted to make Madeleines. I lived in Spain for much of elementary and junior high school, and we always used to buy bags of Spanish Magdalenas. They're much like Madeleines, but in mini cupcake form rather than shells.
I bought a Madeleine pan a couple years ago in Japan, but have never used it until now. It's about time, right?
The batter was ridiculously easy to mix up, with just a few simple ingredients. It needs to chill at least three hours, or up to two days, so there's tons of flexibility with this recipe. Mix up the batter when you have a few spare minutes, then come back to it sometime within the next two days, and you're good to go. They bake very quickly, too, just over 10 minutes, so the active time spent on this recipe is really minimal.
My pan only holds six Madeleines, which is probably a good thing, since I didn't know exactly how full to fill them. Turns out I filled the first pan too high. Woops. I baked them for 11 minutes, not being sure exactly how brown they were supposed to get. And in spite of very generously buttering and flouring the pan, they still stuck like you wouldn't believe. I whacked them against the counter and everything, but they didn't budge. Big bummer. I chalked it up to it being a brand new pan.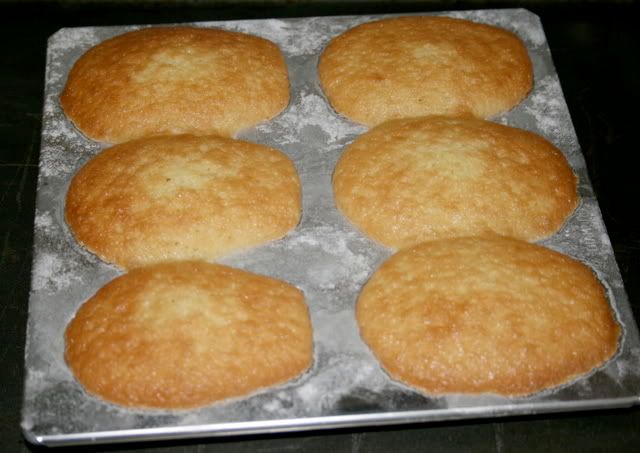 You may want to shield your eyes. This ain't pretty.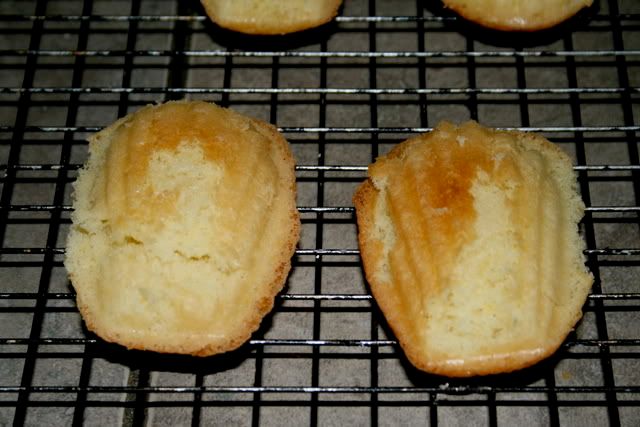 The carnage!
The second batch, however, turned out beautifully! I cooked them for the full 14 minutes, figuring that that may have been part of the reason the first batch stuck as much as they did. And this time when I rapped the pan on the counter, to my delight, the Madeleines popped right out. Woohoo!
Everyone has been talking about the characteristic bump on the non-scalloped side of the Madeleines. I think mine had it. I mean, they weren't flat or anything, and they did bump up nicely on that side, but I don't know if there was something more I should have been shooting for. No matter, though, because they tasted incredible. Soft inside, with a little crispiness on the outside. Absolutely amazing. I can't wait to make these again!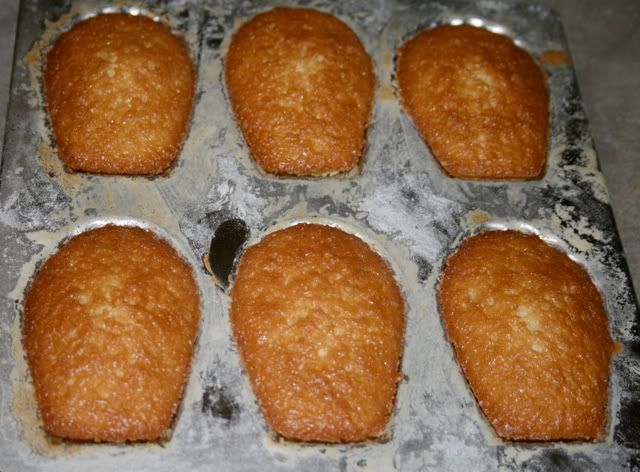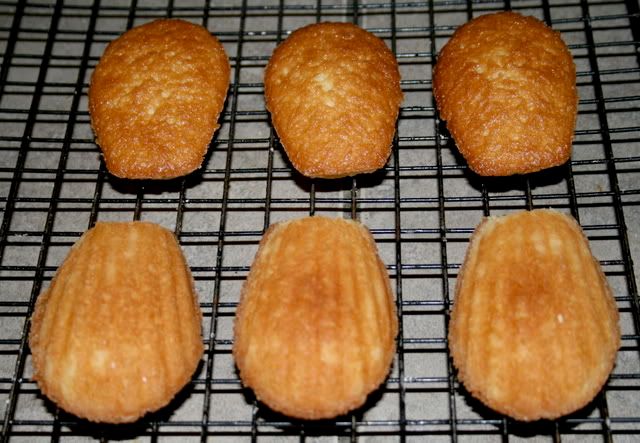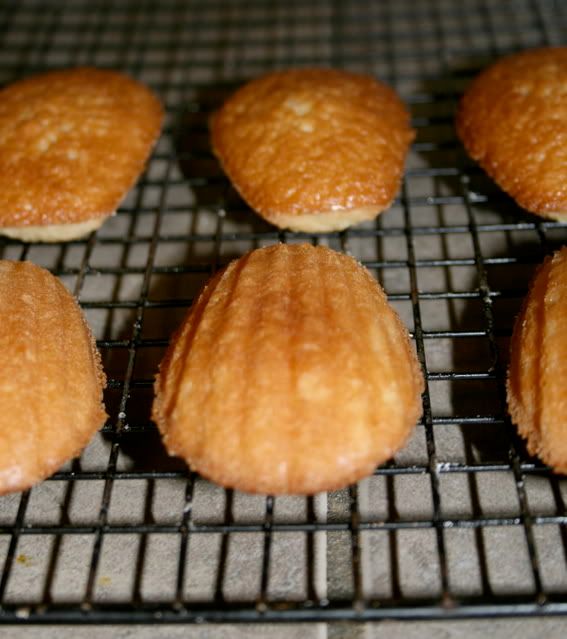 Traditional Madeleines
From Dorie Greenspan's
Baking: From My Home to Yours
2/3 cup all-purpose flour
¾ teaspoon baking powder
Pinch of salt
½ cup sugar
Grated zest of 1 lemon
2 large eggs, at room temperature
2 teaspoons pure vanilla extract
¾ stick (6 tablespoons) (85g) unsalted butter, melted and cooled
Confectioners' sugar, for dusting
Whisk together the flour, baking powder and salt.
Working in a mixer bowl, or in a large bowl, rub the sugar and lemon zest together with your fingertips until the sugar is moist and fragrant. Add the eggs to the bowl. Working with the whisk attachment, or with a hand mixer, beat the eggs and sugar together on medium-high speed until pale, thick and light, 2 to 3 minutes. Beat in the vanilla. With a rubber spatula, very gently fold in the dry ingredients, followed by the melted butter. Press a piece of plastic wrap against the surface of the batter and refrigerate it for at least 3 hours, or for up to 2 days. This long chill period will help the batter form the hump that is characteristic of madeleines. (For convenience, you can spoon the batter into the madeleine molds, cover and refrigerate, then bake the cookies directly from the fridge; see below for instructions on prepping the pans.)
GETTING READY TO BAKE: Center a rack in the oven and preheat the oven to 400 degrees F. Butter 12 full-size madeleine molds, or up to 36 mini madeleine molds, dust the insides with flour and tap out the excess. Or, if you have a nonstick pan (or pans), give it a light coating of vegetable cooking spray. If you have a silicone pan, no prep is needed. Place the pan(s) on a baking sheet.
Spoon the batter into the molds, filling each one almost to the top. Don't worry about spreading the batter evenly, the oven's heat will take care of that. Bake large madeleines for 11 to 13 minutes, and minis for 8 to 10 minutes, or until they are golden and the tops spring back when touched. Remove the pan(s) from the oven and release the madeleines from the molds by rapping the edge of the pan against the counter. Gently pry any recalcitrant madeleines from the pan using your fingers or a butter knife. Transfer the cookies to a rack to cool to just warm or to room temperature.
If you are making minis and have more batter, bake the next batch(es), making certain that you cool, then properly prepare the pan(s) before baking.
Just before serving, dust the madeleines with confectioners' sugar.
Makes 12 large or 36 mini cookies
Serving: Serve the cookies when they are only slightly warm or when they reach room temperature, with tea or espresso.
Storing: Although the batter can be kept in the refrigerator for up to 2 days, the madeleines should be eaten soon after they are made. You can keep them overnight in a sealed container, but they really are better on day 1. If you must store them, wrap them airtight and freeze them; they'll keep for up to 2 months.