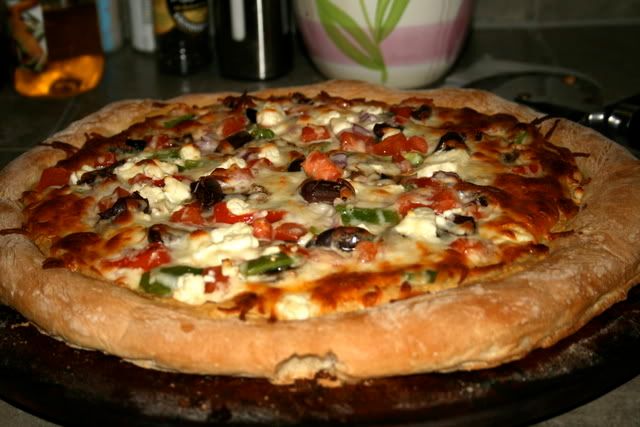 I've had Greek Salad pitas on my menu for who knows how long now, but haven't ever gotten around to making them for some reason. They just always seemed to be the meal that got pushed back...and back and back and back. Today, though, I struck on the idea of making a Greek pizza, using hummus instead of pizza sauce. I've made Greek pizzas before, and just used a light olive oil glaze instead of pizza sauce, but I thought the hummus would add a nice dimension to it. And I was right!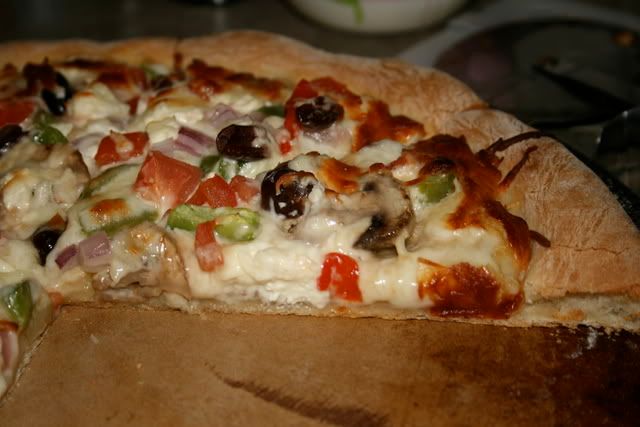 This pizza is delicious! The hummus really did add to the overall taste of the pizza, but without overpowering it. I used about one cup of hummus, but you could use more or less to suit your taste. For the crust, I made a really quick, no-knead pizza dough recipe, and doubled the batch so the kids could make their own mini pizzas with the toppings of their choice. I baked the remaining dough by itself, spritzed lightly with olive oil and sprinkled with salt, for breadsticks.
Here are the kids' pizzas! Aren't they cute? They did such a great job! These are little mini pizza stones, about 8" in diameter, and perfect for personal pizzas. Love it!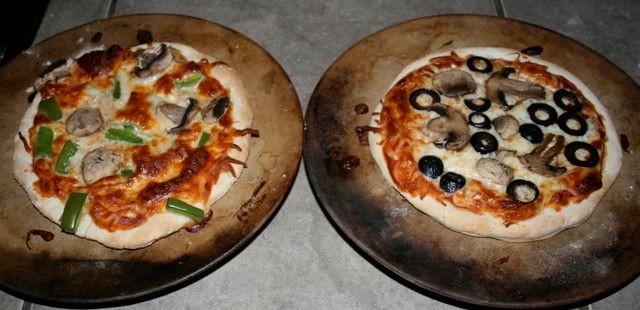 Greek Hummus Pizza
1 recipe
pizza dough
1 cup
hummus
3 cups mozzarella cheese, divided
mushrooms, sliced
green bell pepper, diced
roasted red pepper, sliced
tomato, diced
red onion, diced
kalamata olives, halved
1/2 cup feta cheese
Prepare pizza dough. Press into a circle on a pizza pan or baking stone. Preheat oven to 425. Pre-bake pizza dough for 5 minutes before adding toppings.
After dough has pre-baked, spread the hummus over it in an even layer. Top with 2 cups of the mozzarella cheese, followed by the vegetables, and then the feta cheese. Sprinkle remaining 1 cup mozzarella cheese over all.
Bake 12 to 15 minutes, or until cheese is melted and crust is brown.