Tuesdays with Dorie! And I'm on time, even if not early in the day. Woohoo!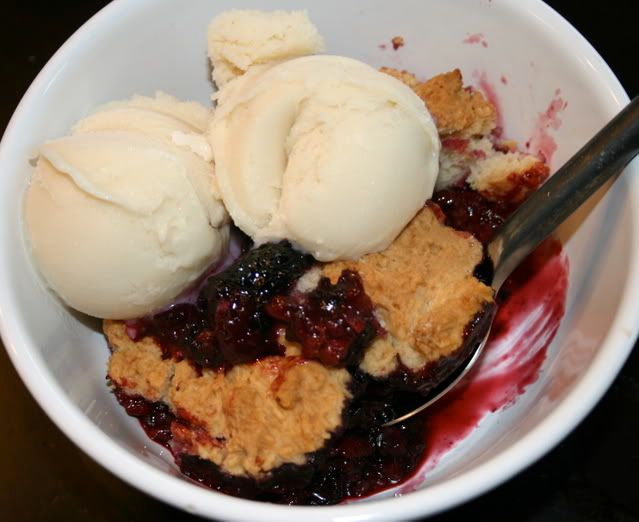 This week's recipe was chosen by Beth of
Our Sweet Life
. I was super stoked about this recipe, because I adore blackberry cobbler! Yum! I wish I still lived in Seattle, where blackberries literally grow wild like weeds, and you can pick them by the bucketful for free. Here, though, the best I could do was frozen berries from our local produce stand. Works for me!
I put this together as soon as I walked in the door from work, since I knew it had a long baking time. It was ridiculously simple to make, just a quick biscuit dough, and a few ingredients tossed with the berries. I used 4 cups of blackberries and 2 cups of raspberries. That's a little more berries than the recipe called for, and I honestly wish I had used even more. I made mine in a 9x9 square pan rather than a deep pie dish, so I could have easily fit several more cups. So if I were going to make this again, I'd use 8 cups of frozen berries, and increase the other filling ingredients accordingly. In my book, you can never have too much berry filling.
Oh! I almost forgot to add that I used vegan margarine instead of butter, and almond milk instead of cream, and the topping turned out great! And I served it with dairy-free vanilla ice cream. Another successful veganization! Woot!
All in all, this isn't my favorite cobbler recipe, but it was still delicious!