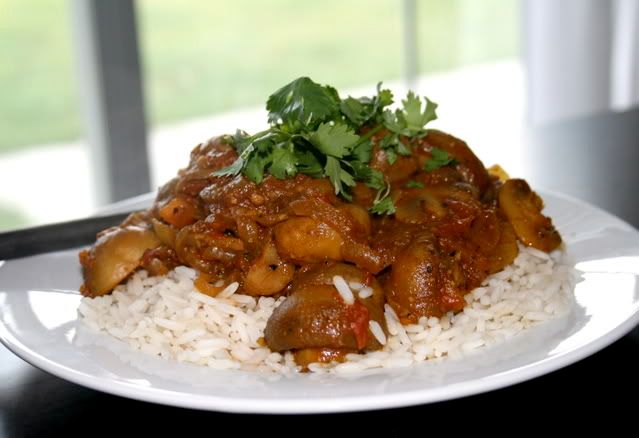 I tried spicy mushroom curry at our favorite Indian restaurant back in Japan a couple years ago. Oh, and on that note, Brad gets to go back to Japan this summer for his 2-week Navy Reserve drill period, and I am BEYOND jealous. Initially we figured I could go with him, but that was before I had a job, and now I don't think I'll be able to take time off, plus the price of tickets is prohibitive. This is a huge bummer for me, as we still have lots of friends there that I would love to see again. And all the siteseeing we didn't get to do while we were there with the kids. And the shopping. And the karaoke! And all of our favorite restaurants! But alas, Brad will be going without me. Which means he'll go to Pepper Lunch, Coco Curry, yaki-niku, the sushi-go-round on the 8th floor of More's City, Garlic Jo's, Thai Erawan, Matchpoint, and Appughar. I could cry. : (
But with this dinner tonight, I feel a little bit like I'm back in Japan, eating at Appughar. That's something, right? And my mom is going to try to come visit while Brad's gone, which would be absolutely awesome. I miss her so much, plus it would be so nice to have some company while Brad is gone. And I'll just have to have Brad do my shopping for me. ; )
So anyway, I had the spicy mushroom curry one time at Appughar, and I loved it. This recipe tastes SO much like it, I almost can't believe it. I found it
here
, at
Taj Recipe
. What a great recipe! It called for the mushrooms to be sliced, but I just halved them so they made for more of a mouthful. And I sliced the onions thinly instead of dicing them.
Believe the title when it says this is spicy. It packs a whallop! So make sure you have some ice water on hand, or a cold beer. You'll need it.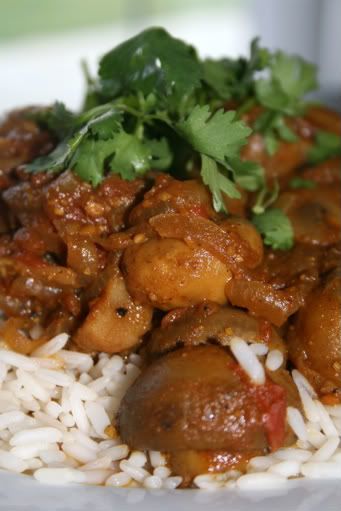 South Indian Spicy Mushroom Curry
2 1/2 tsp fennel seeds
1/2 tsp cinnamon
3 cloves
1 Tbsp vegetable oil
1 onion, thinly sliced
1 tomato, coarsely diced
2 garlic cloves, pressed
1 tsp ginger, grated
1 tsp freshly ground black pepper
1/2 tsp cayenne pepper
1/4 tsp turmeric
1 lb button mushrooms
1/4 cup water
salt to taste
chopped cilantro, to garnish
Grind cinnamon, fennel seeds & clove to fine powder (I use a coffee grinder). Set aside.
Heat oil in a large skillet over medium heat, then add the cinnamon mixture. Stir and cook one minute. Add onion, and cook and stir until golden brown. Add tomato, garlic and ginger, and continue to fry until the tomato softens and releases its juices. Add pepper, cayenne pepper, and turmeric. Mix well. Add mushrooms, water and salt. Stir to combine well. Reduce heat, cover and simmer until the mushrooms are cooked through.
Once mushrooms are cooked, remove the lid, increase heat to medium-high, and cook and stir until most of the water evaporates, and a thick gravy is formed.
Garnish with chopped cilantro. Serve with rice.