Today we took our afternoon to just rest and relax. That meant I got to take my first nap in more than a month (woohoo!), and it also meant that we wanted an easy dinner that didn't involve a lot of prep work. This certainly fit that bill!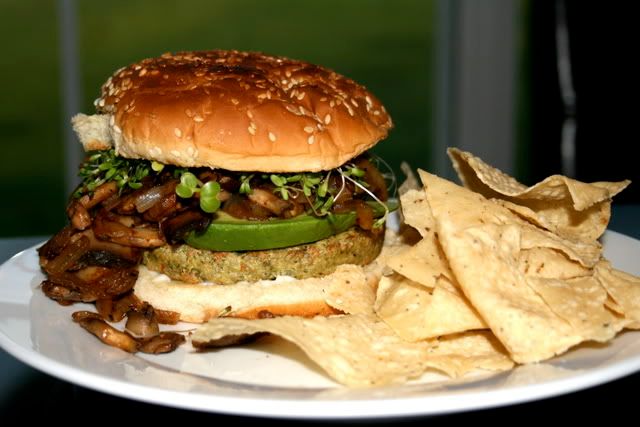 I was surprised to discover that a lot of veggieburgers still contain dairy products, so it took a little searching to find a vegan one that still looked good. I ended up going with Organic Sunshine Burgers, made of brown rice, sunflower seeds, carrots, herbs and sea salt, and they were really good! I don't know how they'd be just plain on a bun, but I had mine with Vegannaise, sliced avocado (instead of cheese), cooked mushrooms and onions, and spicy sprouts. Yum! What a delicious dinner!
So, my vegan diet is going fairly well, one week in. Yesterday I did have some dairy because we joined Brad's family out for pizza, and I don't really know what else I could have done, so I just went with it. I have no intention of becoming a militant dietary vegan. I don't intend to eat meat or dairy at home at all, nor will I eat meat when I'm out, and I'll do my best to also choose the dairy-free option when I'm out, but sometimes that just isn't viable. I'm just going to do the best I can.
I have to take a moment, while I'm on this topic, to give a shout out to my husband. He is -- and always has been -- so supportive of me, and is always encouraging me in anything I want to do. I knew he was on board with going meat-free at home, and I knew that he was also supportive of me transitioning to a vegan diet now. But this morning I was in the car alone with the kids, and Lydia was asking me about my decision to not eat meat or dairy, and told me that Brad had told her and Meg that it was really important for the three of them to be supportive of me in this. Isn't that sweet? I mean, it's not surprise because as I said, he's always been that way, but it was still awesome to know that he is totally on board with me, and wants to see me succeed. Hooray for Brad! : )