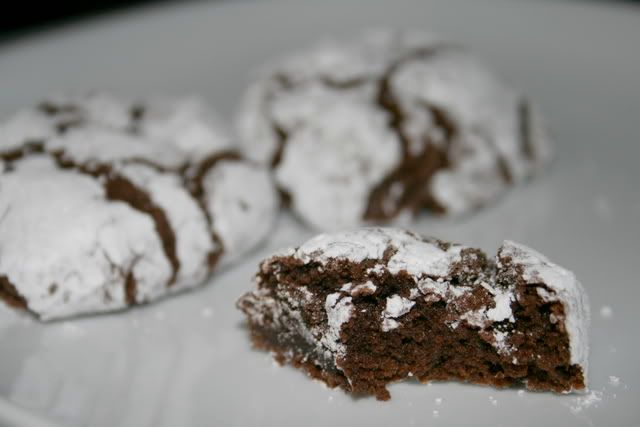 Brad was craving something sweet today, so I chose these chocolate crinkle cookies that I found on
All Recipes
. They're dark, rich and chocolatey. They're a little time consuming to make, since you have to let the dough chill for awhile, then you have to fuss with scooping them and rolling in powdered sugar, but they're worth the time and trouble. Good stuff!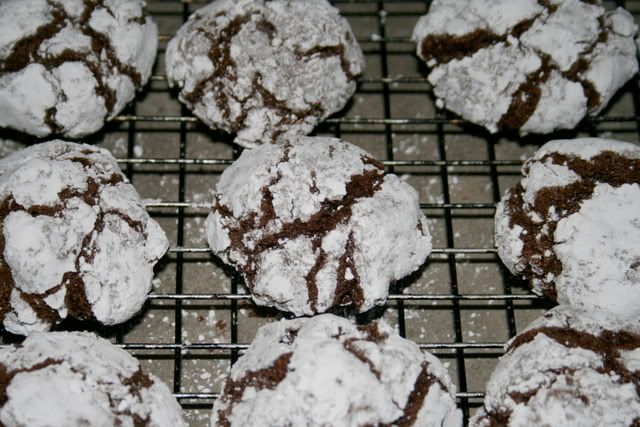 Dark Chocolate Crinkle Cookies
1 cup unsweetened cocoa powder
2 cups white sugar
1/2 cup vegetable oil
4 eggs
2 teaspoons vanilla extract
2 cups all-purpose flour
2 teaspoons baking powder
1/2 teaspoon salt
1 cup powdered sugar
In a stand mixer fitted with the paddle attachment, mix together cocoa, white sugar, and vegetable oil. Beat in eggs one at a time, then vanilla. Combine the flour, baking powder, and salt. With the mixer on low, stir the dry ingredients into the cocoa mixture. Cover dough, and chill for at least 2 hours.
Preheat oven to 350. Line cookie sheets with parchment paper. Sift powdered sugar into a shallow bowl. Using two spoons, drop dough by teaspoons into powdered sugar, one or two at a time. Toss to coat and gently shape into balls. Place on prepared cookie sheets, 2 inches apart.
Bake in preheated oven for 10 to 12 minutes. Let stand on the cookie sheet for a minute before transferring to wire racks to cool.