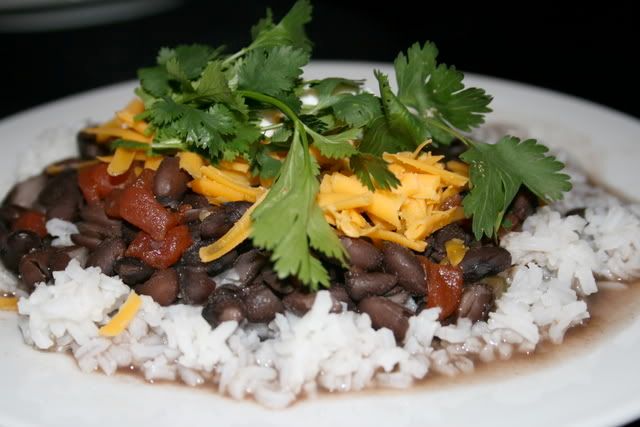 Inspired by the delicious black beans we had last week, I bought a few more bags and am determined to start cooking with them more often. Tonight's dinner is almost embarrassingly simple, but really yummy. If you want, you could stir the rice and beans all together into one dish, but I preferred to spoon the beans and sauce over the rice.  We used soy cheese and soy sour cream, to make this a vegan meal.  
Spicy Black Beans and Rice
1 lb dry black beans
1 bay leaf
1 can Rotel (diced tomatoes and chiles)
salt & pepper
4 servings hot, cooked rice
Toppings (optional): cheddar cheese, sour cream, cilantro, hot sauce
Soak beans overnight. The next day drain the beans, then cover with water to several inches above, add the bay leaf, and bring to a boil over high heat. When the water boils, reduce heat, cover and simmer for one and a half to two hours, or until beans are tender.
Drain the beans, reserving the cooking liquid. Return beans to the pot, setting aside half for another use. Add Rotel and 1 to 2 cups of cooking liquid, or more or less to suit your preference. Bring to a boil, reduce heat and simmer 10 minutes. Season to taste with salt and pepper.
Serve beans over rice, and add toppings as desired.