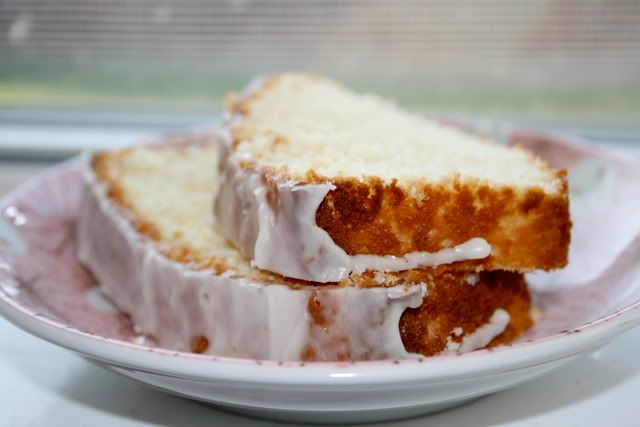 As soon as I saw this recipe for
Lemon Yogurt Cake
on
a whisk and a spoon
, I knew I had to make it. Click over and check out her pictures. Doesn't it look glorious?
Alas, I didn't have any plain yogurt on hand, and the only lemon in my fridge had already been zested for this week's Tuesdays with Dorie recipe (coming tomorrow! Be sure to check back!). So I fiddled with the recipe a little, and made it work with what was already in my fridge. Instead of plain yogurt, I used a mixture of sour cream and mayonnaise. I know, I know, sour cream and mayo are far, far different from yogurt, but I've used them both in baked goods before, and they've worked well, so I went with it. And since my lemon had already been zested, I subbed a little lemon extract instead. I was also lacking marmalade for the glaze, so instead I just made a simple glaze of powdered sugar, lemon extract and soy milk. I really wish I had some marmalade, but it's just not something I normally have on hand, and I was determined to make this cake without going to the store.
The result? It's sooooo good! Moist and sweet and tart and delicious. I'd like to try the original recipe next time, just to see how it differs, but it's nice to know that I was able to cobble together something so delicious just with what I had on hand.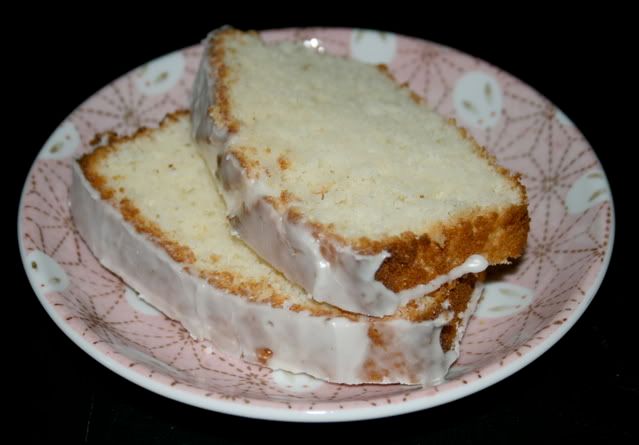 Lemon Loaf Cake
adapted from a whisk and a spoon's Lemon Yogurt Cake
For the cake:
1 1/2 c all-purpose flour
2 t baking powder
1/4 t salt
1/2 cup sour cream
1/2 cup mayonnaise
1 c sugar
3 large eggs
1/3 c vegetable oil
1/2 tsp lemon extract
juice of half a lemon
For the glaze:
1/2 tsp lemon extract
1 Tbsp soy milk
1 1/2 cup powdered sugar
1 t water
Position rack in center of oven and preheat to 350°F. Generously butter 8-inch loaf pan.
Sift flour, baking powder, and salt into medium bowl.
Combine sour cream, mayonnaise, sugar, eggs, oil, lemon extract and lemon juice in large bowl; whisk until well blended. Gradually whisk in dry ingredients.
Transfer batter to prepared loaf pan. Place cake on baking sheet in oven and bake until cake begins to pull away from sides of pan and tester inserted into center comes out clean, 50 to 60 minutes.
Cool cake in pan on rack 5 minutes. Cut around pan sides to loosen cake. Turn cake out onto rack. Turn cake upright on rack and cool completely. (Can be made 1 day ahead. Wrap and store at room temperature.)
Whisk together the glaze ingredients, until smooth. Spoon over the cake, allowing the glaze to drip down the sides. Let glaze cool and set before slicing and serving.