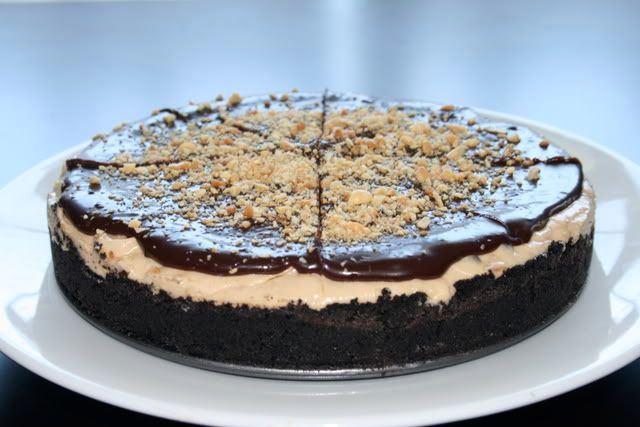 So. Not the most exciting
Tuesdays with Dorie
recipe for me this week. Elizabeth of
Ugg Smell Food
chose the Peanut Butter Torte. Brad hates peanut butter, and I'm reluctant to spend time and money making something that it's fairly certain he won't enjoy. Beyond that, I've had peanut butter pie once before, and as excited as I was about it, I didn't really care for it. I should probably add, though, that my one experience with peanut butter pie was about 24 years ago, when I was 8 years old and we had gone to Magic Mountain for the day, and stopped at Marie Calendar's on the way home. I was so stoked to try some peanut butter pie, but it was just.....eh. When I tried the peanut butter filling of this torte, it tasted much like that peanut butter pie I had nearly a quarter of a decade ago, so I was less than thrilled.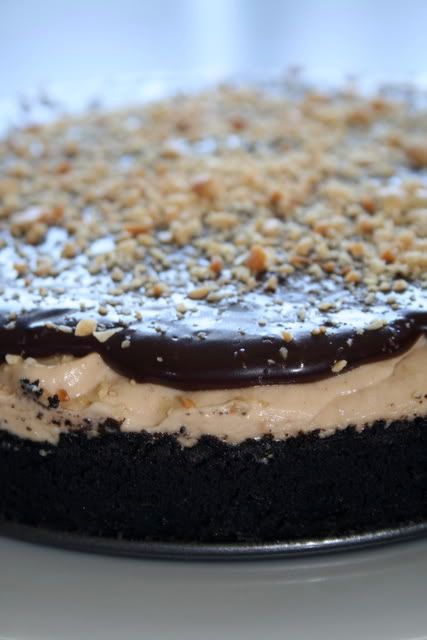 The torte was surprisingly easy to make. I'm not typically a fan of multi-part recipes, but in spite of that, this was really simple to put together. I halved the recipe and made it in a 6-inch springform pan, which it fit nicely. It wasn't a towering, majestic torte like the one pictured in the book, but it was still attractive and impressive. I think that if someone saw it in a dessert case, they'd definitely buy it, so I give the torte points for that!
I felt that the crust could have used more Oreos. I didn't even attempt to bring my crust very high up the edges, but even so, the bottom was patchy in spots. I didn't stress about it, however, because it was going to be covered with the peanut butter filling anyway, so no big deal.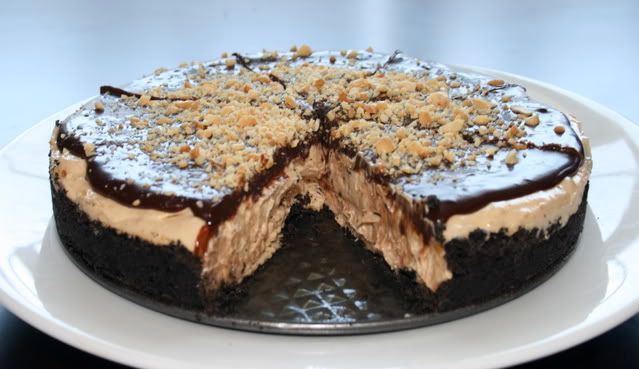 I made the torte, minus the ganache topping, on Saturday night, and added the ganache Sunday afternoon. Shortly after that it was time for taste testing. And. Well. Brad didn't like it, and neither did the kids. I wasn't expecting Brad to like it, so no big surprise there, but I really thought the kids would love it. They each tried one bite, then said "no, thank you", and pushed their plates away. Bummer.
As for me? Well, I thought it was ok. I'm a big lover of most things peanut butter and chocolate, but this just didn't do it for me. It was good, don't get me wrong, but it wasn't as great as I've come to expect from Dorie's recipes. I didn't care for the cinnamon in the filling. Even though it was just a tiny bit, I didn't like how it tasted. I had been afraid, upon trying a taste of the filling, that the torte would be too salty, but it was balanced out by the crust and ganache, so that wasn't a problem. I honestly can't really put my finger on why I didn't like it. I just didn't. :sigh:
They can't all be winners, right? And maybe I could take it to my Anthropology final tomorrow and sell it by the slice. ; )
Oh, and seriously? 6 to 8 servings for the whole recipe? Are you kidding me? I made a half batch, and it would easily make 8 generous servings. I honestly can't imagine eating 1/6 of the whole recipes. Whoa.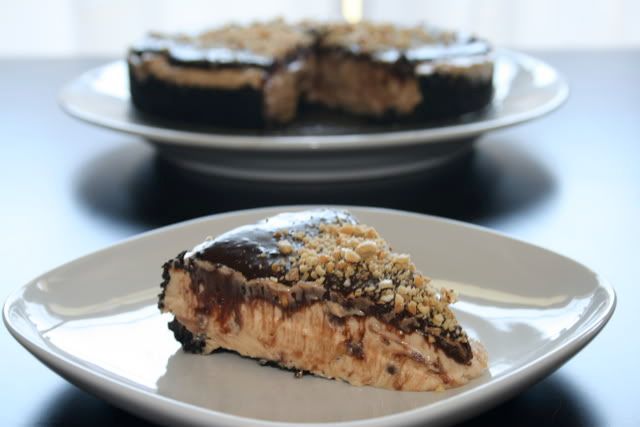 Peanut Butter Torte
1 ¼ c. finely chopped salted peanuts (for the filling, crunch and topping)
2 teaspoons sugar
½ teaspoon instant espresso powder (or finely ground instant coffee)
¼ teaspoon ground cinnamon
Pinch of freshly grated nutmeg
½ c. mini chocolate chips (or finely chopped semi sweet chocolate)
24 Oreo cookies, finely crumbed or ground in a food processor or blender
½ stick (4 tablespoons) unsalted butter, melted and cooled
Small pinch of salt
2 ½ c. heavy cream
1 ¼ c confectioners' sugar, sifted
12 ounces cream cheese, at room temperature
1 ½ c salted peanut butter – crunchy or smooth (not natural; I use Skippy)
2 tablespoons whole milk
4 ounces bittersweet chocolate finely chopped
Getting ready: center a rack in the oven and preheat the oven to 350°F. Butter a 9-inch Springform pan and place it on a baking sheet lined with parchment or a silicone mat.
Toss ½ cup of the chopped peanuts, the sugar, espresso powder, cinnamon, nutmeg and chocolate chops together in a small bowl. Set aside.
Put the Oreo crumbs, melted butter and salt in another small bowl and stir with a fork just until crumbs are moistened. Press the crumbs evenly over the bottom and up the sides of the spring form pan (they should go up about 2 inches on the sides). Freeze the crust for 10 minutes.
Bake the crust for 10 minutes, then transfer it to a rack and let it cool completely before filling.
Working with a stand mixer fitted with the whisk attachment or with a hand mixer in a large bowl, whip 2 cups of the cream until it holds medium peaks. Beat in ¼ cup of the confectioners' sugar and whip until the cream holds medium-firm peaks. Crape the cream into a bowl and refrigerate until needed.
Wipe out (do not wash) the bowl, fit the stand mixer with the paddle attachment if you have one, or continue with the hand mixer, and beat the cream cheese with the remaining 1 cup confectioners' sugar on medium speed until the cream cheese is satiny smooth. Beat in the peanut butter, ¼ cup of the chopped peanuts and the milk.
Using a large rubber spatula, gently stir in about one quarter of the whipped cream, just to lighten the mousse. Still working with the spatula, stir in the crunchy peanut mixture, then gingerly fold in the remaining whipped cream.
Scrape the mouse into the crust, mounding and smoothing the top. Refrigerate for at least 4 hours, or overnight; cover with plastic wrap as soon as the mousse firms.
To Finish The Torte: put the chopped chocolate in a heatproof bowl and set the bowl over a saucepan of simmering water. Leave the bowl over the water just until the chocolate softens and starts to melt, about 3 minutes; remove the bowl from the saucepan.
Bring the remaining ½ cup cream to a full boil. Pour the cream over the chocolate and , working with a a rubber spatula, very gently stir together until the ganache is completely blended and glossy.
Pour the ganache over the torte, smoothing it with a metal icing spatula. Scatter the remaining ½ cup peanuts over the top and chill to set the topping, about 20 minutes.
When the ganache is firm, remove the sides of the Springform pan; it's easiest to warm the pan with a hairdryer, and then remove the sides, but you can also wrap a kitchen towel damped with hot water around the pan and leave it there for 10 seconds. Refrigerate until ready to serve.