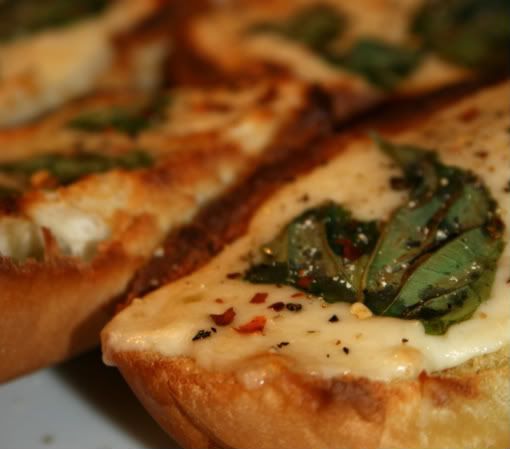 Look what my sweetie made! We had some incredible leftover bread from the pan bagnat I made earlier, so Brad threw these together in less than ten minutes. Aren't they beautiful? He wasn't going off of a recipe, just off the cuff, and they totally hit the spot.
For lack of a more creative name, we're dubbing these:
Spicy Basil Cheese Bread
2 soft sandwich rolls
1 Tbsp olive oil
1 tsp dried oregano
4 slices provolone cheese
fresh basil leaves
crushed red pepper
fresh ground black pepper
Preheat broiler.
Split sandwich rolls horizontally. Place cut-side up under broiler for 1 minute, just to lightly crisp, but not brown them. Remove from broiler. Brush cut surfaces with olive oil, and sprinkle with oregano. Place back under broiler for 1 to 2 minutes, until edges begin to brown lightly. Remove from broiler again, and top with cheese. Place back under broiler just long enough for the cheese to begin melting. Remove from broiler (yes, again), and top with basil leaves, as little or as much as you want. Return to broiler, and broil for 1 to 2 minutes, or until cheese is melted and basil begins to wilt. Sprinkle with red pepper and black pepper. Serve warm.