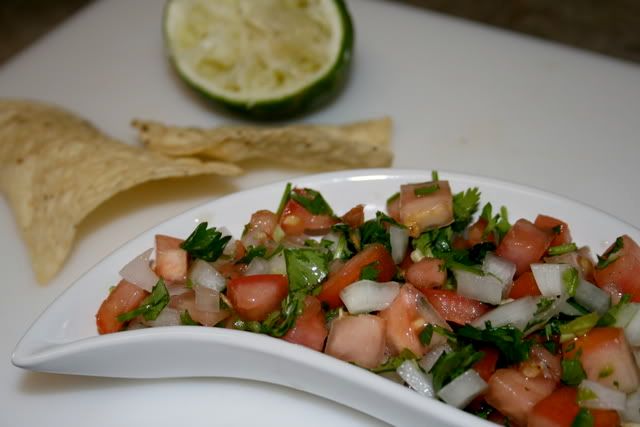 We usually just use jarred salsa for our burritos, but today I wanted some yummy, fresh, pico de gallo. I think it really adds a lot to a burrito, much more so than your run-of-the-mill salsa, so I set off to make some.
The only tomatoes at the store were pathetic, but I didn't have a lot of choice. We had some crazy, wicked storms here over the last 24 hours, and it wasn't really the best weather for driving around in. That didn't stop us, however, from loading the kids into the car (school was closed because of the rain and flooding) and heading off to McDonald's to try a free chicken biscuit. Yes, we are idiots, but I told you I'm a food slut. A bunch of the roads in our subdivision were flooded, but we managed to make our way through, and got our chicken biscuits. We also stopped at the store on the way home to get some tomatoes, such as they were. And that's why my pico de gallo looks more pink, green and white, instead of red, green and white. Still tasty, though.
Pico de Gallo
2 tomatoes
1 medium white onion
2 fresh jalapenos
1 big handful cilantro
1 lime
salt & pepper
Dice the tomatoes, onion, and jalapeno in a fairly fine dice, about 1/4-inch. Coarsely chop the cilantro, and combine with previous ingredients in a medium glass or ceramic bowl. Juice the lime and add it to the mixture. Combine thoroughly. Salt and pepper to taste. Chill before serving.