I've been wanting to make these sandwiches for ages. I've seen them in countless cookbooks, and they always looked so fresh and satisfying, so I picked up the ingredients today to make them for lunch. I don't often plan out lunches ahead of time. Tuesdays and Thursday after class, we usually go somewhere quick for lunch on our way home (or not so quick, if we decide to skip out of Chemistry early), and on non-class days, we typically just forage and come up with something from what we have one hand. Today, though, I decided to splurge a little and buy ingredients specifically for lunch.
And we were rewarded handsomely! What a wonderful sandwich! So pretty! So satisfying! So easy! We ate them out on the back patio while we studied for our Anthropology final and our sweet dog Gretel happily played in the sunshine.
While it may seem like a lot of stuff, the ingredients in this are actually simple. A lot of it you may already have on hand in your fridge and pantry, so if you do, make up a few of these, and you'll be glad you did. They'd be great, too, to make ahead of time for a brown bag lunch or a picnic. I think they may become a staple for us.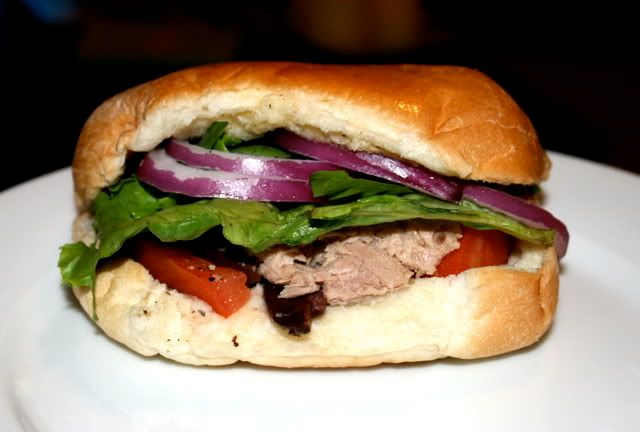 Pan Bagnat
soft sandwich rolls
olive oil
garlic, minced
tuna, preferably packed in olive oil (ours was packed in water)
Roma tomatoes, sliced
red onion, sliced
hard boiled egg, sliced (I left this out since we didn't have any ready)
Kalamata olives, pitted
fresh basil
lettuce
red wine vinegar
salt and pepper
Split the rolls horizontally. Drizzle liberally with olive oil. Top with garlic, tuna, tomatoes, onion, egg, olives, basil and lettuce. Splash with a little vinegar and season with salt and pepper.
Place the tops on the rolls, wrap tightly in plastic wrap, and refrigerate for several hours, up to 12.