At my favorite pizza place in Seattle, Pagliacci, they make not only the best pizza I've ever had, but also this amazing creamy pesto pasta salad with peas and artichoke hearts. Tonight I attempted to recreate it at home.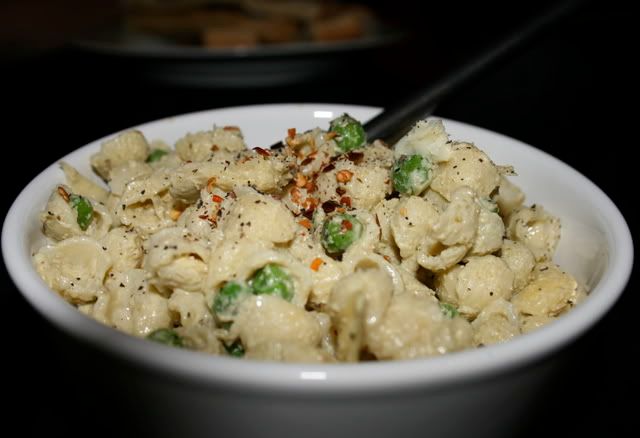 I wanted a lighter version of a creamy pesto sauce, given that there's already so much oil and nuts in pesto, plus I didn't want to use any dairy products, so instead of mayonnaise, I used tofu. It's the first time I've used tofu in that capacity, and I was thrilled with how great it worked! I put about a half cup of prepared pesto (yes, I was lazy) in my food processor, and about 1/3 of a block of tofu, then whirled it all together. Easy peasy!
Creamy Pesto Pasta Salad
1 lb small pasta shells
1/2 cup prepared pesto
1/3 block tofu
1/2 cup frozen peas
1 can quartered artichoke hearts, drained
Cook pasta, drain, and rinse with cold water to cool.
While pasta is cooking, place pesto and tofu in a food processor, and process until smooth and creamy.
Toss pasta with pesto sauce, peas and artichoke hearts. Chill at least 2 hours before serving.