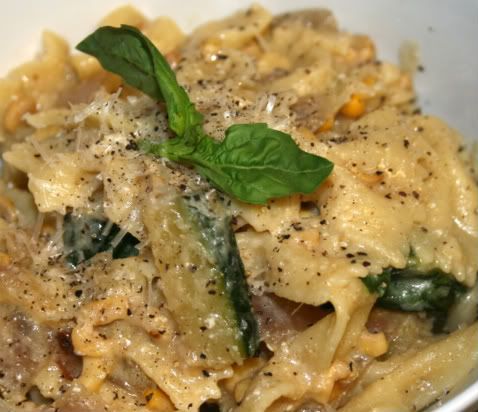 For dinner Tuesday, I made
this recipe that I saw on the Food Network
the other day. I thought it sounded really good, but neither Brad nor I cared for the corn in it. I'm posting the recipe anyway, with my modifications, so I'll have it for next time I want to tweak it. Next time I think I'll omit the corn and replace it with some other veggies. I bet some broccoli would be good!
Pasta with Roasted Corn, Garlic and Zucchini
1 pound farfalle pasta
2 teaspoons olive oil
2 ears roasted corn, cut from the cob
2 medium zucchini, chopped
1/2 cup diced red onion
1 cup vegtable broth
1/3 cup roasted garlic cloves
1 bunch fresh basil, torn
Salt and ground black pepper
Preheat oven to 400 degrees. Wrap corn and garlic separately in foil and roast in preheated oven for about 1 hour. This can be done in advance on a prep day.
Cook pasta according to package directions. Drain and reserve 1 cup of the cooking water. Transfer pasta to a large bowl.
Meanwhile, heat oil in a large skillet over medium heat. Add corn cut from cob, zucchini and onion and saute for 3 minutes, until golden brown. Add broth and roasted garlic and bring to a simmer. Simmer 5 minutes. Pour mixture over pasta, add basil, and toss to combine, adding cooking water, if necessary, to moisten pasta. Season to taste with salt and pepper.