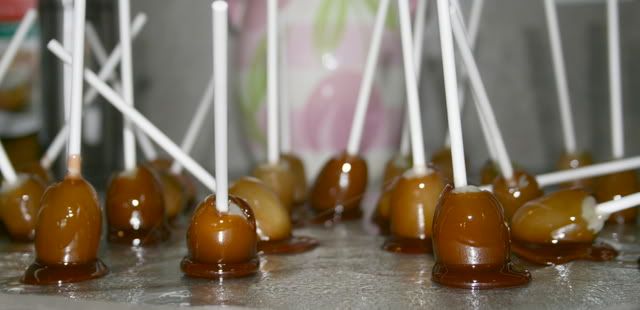 Update: I discovered, much to my dismay, that after about an hour, the grapes begin to shrivel up and release their juices, which melts away the candy coating. : ( So if you're going to make these, plan on eating them straight away. Bummer.
Last year when our friend Mary was visiting us in Japan, we went to Kamakura, a town about 20 minutes away, home of the
Great Buddha
and a ton of amazing shrines. There must have been some kind of kids' festival going on, because there were a bunch of kids dressed in traditional kimonos, and special kid-related street vendors. One of them was selling candied grapes...just like candied apples you can get at the fair, but these were made with jumbo purple grapes on a lollipop stick. I'd never seen anything like that, and thought it was just about the coolest thing ever. Of course I bought some for the kids, and one for me, and they were delicious. And fun! I've been wanting to try making them myself ever since.
Here's a picture of my sweet girls with their grapes in Kamakura last year!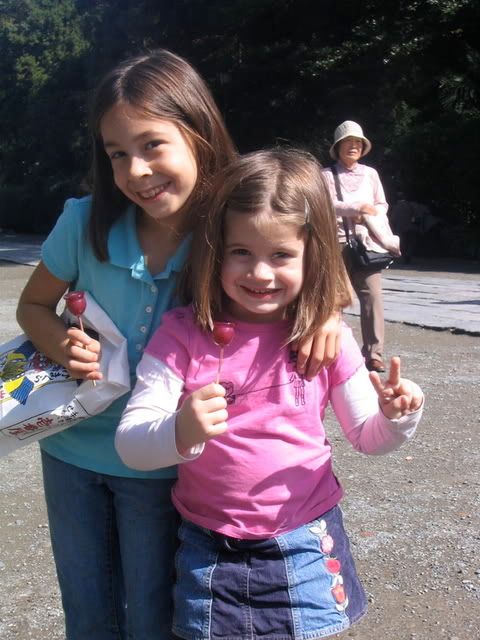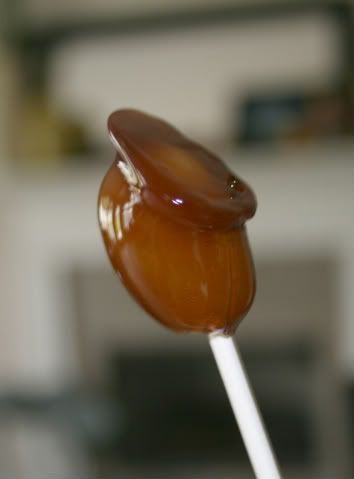 I couldn't find giant grapes anywhere, but my mother-in-law gave me a lovely pack of fairly large green grapes the other day, so this morning I picked up some lollipop sticks and set to work.
They were really fun to make! The only issue I had was that I added green food coloring to make the candy green, since it was going on green grapes, but didn't realize that the grape flavoring I bought was purple. So the candy turned brown. Oh well, at least it tasted good, right? Next time, though, I'll either leave the flavoring out, or just color the candy purple from the get-go. I think purple candy would have looked pretty on the green grapes.
I should also add that these look like caramel grapes, not candied grapes, but that's only because the stupid grape flavoring turned the stuff brown. The coating is like a hard candy, not caramel. Anyway, just to clarify. ; )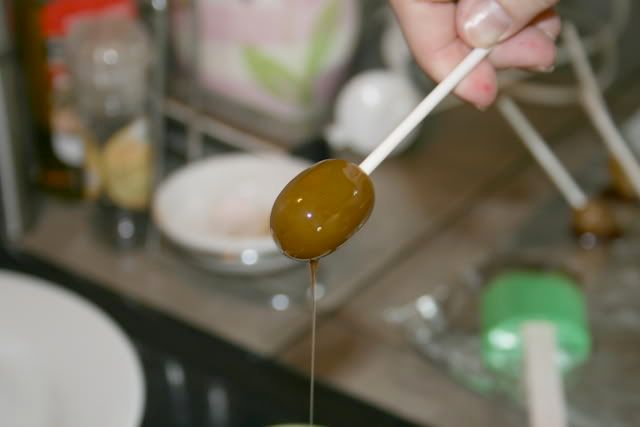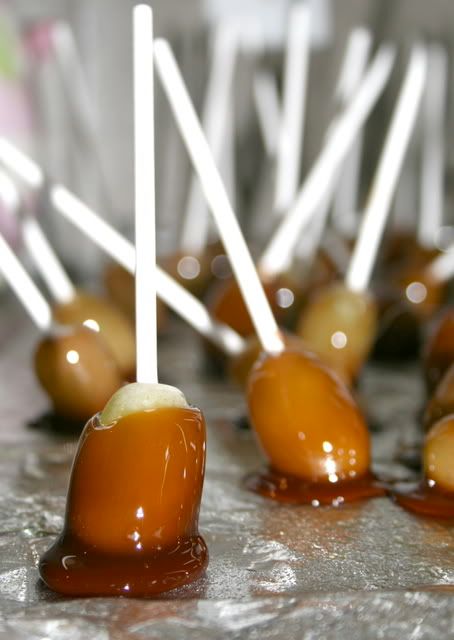 Candied Grapes
1 bunch large purple or green seedless grapes
1 pack lollipop sticks
2 cups sugar
1 cup corn syrup
1 1/2 cups water
food coloring
1/2 tsp grape flavoring
Wash and thoroughly dry the grapes. Gently push a lollipop stick into the stem end of each grape. Set aside. Spray a large sheet of aluminum foil with cooking spray. Set aside.
In a large saucepan, combine sugar, corn syrup, water and food coloring (if desired). Bring to a boil over medium-high heat. When mixture reaches 300 degrees, remove from heat. When bubbles subside, add grape flavoring, stirring to combine.
One at a time, dip grapes in candy mixture, turning to coat. Stand on end on prepared foil. They will harden up fairly quickly.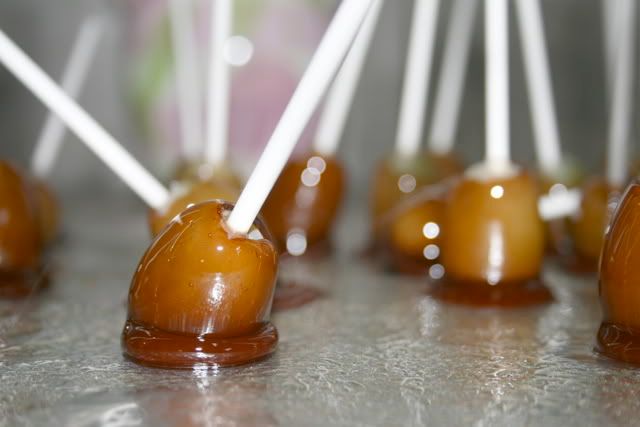 And here are some truly hideous lollipops I made with some of the leftover candy mixture. It was hardening up really fast at that point, so I gave up after a few.