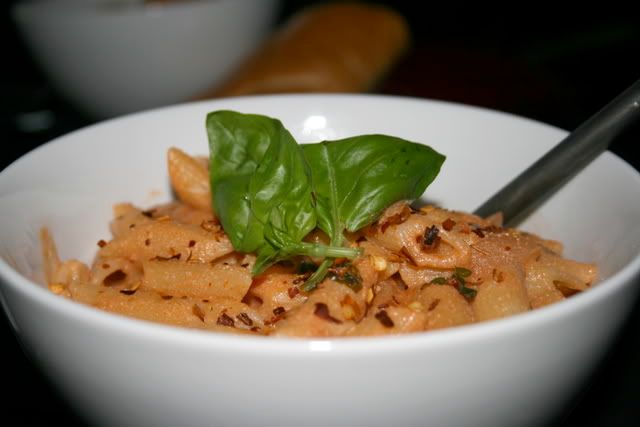 This was a quick dinner I threw together this evening. Since making the tofu-based creamy pesto sauce earlier in the week, I've been wanting to try a creamy tomato vodka sauce using the same technique. It worked really well, and it's fabulous to have a much lower-fat option for this dish, not to mention that it's another successful vegan adaptation. Go, me!
Pasta with Vodka Sauce
1 lb penne pasta
1 Tbsp olive oil
1 medium onion, diced
2 cloves garlic, minced
1/2 cup vodka
1 can tomato sauce (14 oz, I think)
1/3 block tofu
1 bunch fresh basil, sliced into thin ribbons
2 Tbsp fresh parsley, chopped
Cook pasta according to package directions. Drain and set aside.
While pasta is cooking, heat olive oil in a large skillet over medium-high heat. Add onion and cook several minutes, until onion is soft and translucent. Add garlic, and cook and stir for 1 minutes. Add vodka, and simmer for several minutes.
While onion mixture is simmering, place tofu and tomato sauce in a food processor, and pulse until smooth and creamy. Add to vodka mixture. Cover and simmer 10 minutes.
Just before serving, add basil, parsley and pasta. Toss to coat. Serve hot.