It's Tuesday, and you know what that means:
Tuesdays with Dorie
! I have to tell you, I look forward to this all week. I'm having such a good time baking something new every week, and am always eager to see what's coming up the next week.
This week's recipe is Florida Pie, chosen by Dianne of
Dianne's Dishes
. I didn't have the cookbook handy when I first heard that this was the upcoming recipe, and I'd never heard of a Florida Pie before, so I did a quick Google search to see what it might be. I found such unappetizing things as a cream pie with pineapples, maraschino cherries and other canned fruits. Um...ick. So I was nervous. But when I pulled out the cookbook and found that Dorie's Florida Pie is a hybrid of coconut cream and key lime pies, I was delighted!
It was, as with most Dorie recipes I've made, much simpler than it looks. I used a store-bought graham cracker crust because I was taking the pie to my mother-in-law for Mother's Day, and didn't want her to have to worry about my pie plate afterwards. So that was easy! The coconut cream filling was also very simple, just coconut and heavy cream simmered together until they formed a fabulous, thick coconut cream. The key lime filling couldn't have been easier, and the pie only bakes for a matter of minutes before chilling. I used bottled key lime juice because my beloved citrus press broke awhile back, and frankly I didn't feel like juicing a ton of tiny little limes.
The only problem I encountered was my meringue. I haven't made a meringue in years, and for some reason mine turned out kind of chunky. Huh. I don't know if I beat it too long, or not long enough (that's what she said :snort:), but I wasn't pleased with how it turned out. Not only was it chunky, but it also weeped like you can't believe. I mean, it didn't just weep, it sat itself down and had a full-on emotional cryfest, such that the edge of the crust was all goopy. It still tasted delicious, though, so I won't count it as a failure, but merely as room for improvement. Oh, and I opted not to add coconut to the meringue topping, and instead just sprinkled a little on top, where it toasted nicely as the meringue browned.
We ended up going out for lunch on Mother's Day, along with Brad's aunt, his cousin and her husband, his mom, stepdad and little brother, and we all had the pie for dessert. The pie was enjoyed by all, although I did learn that many of the people there don't care for coconut. But no problem, because we're heading back over this afternoon, and I had a cup and a half of key lime juice left, so this morning I whipped up three traditional key lime pies. One for us, one for my mother-in-law, and one for Brad's grandpa who was in the hospital and couldn't have any yesterday. Turns out he loves key lime pie, so he was sorely disappointed when he found that we would be having some at lunch. I couldn't resist making one just for him, and hope he'll be able to have some today. : )
Oh, and I should add that I will definitely make this pie again! I loved what the coconut cream layer added to the key lime filling. They went together beautifully, and made for an absolutely delicious pie. Success! Thank you, Dianne, for choosing this week's recipe!
I didn't get any pictures of the sliced Florida Pie, but here's a picture of one of my key lime pies instead.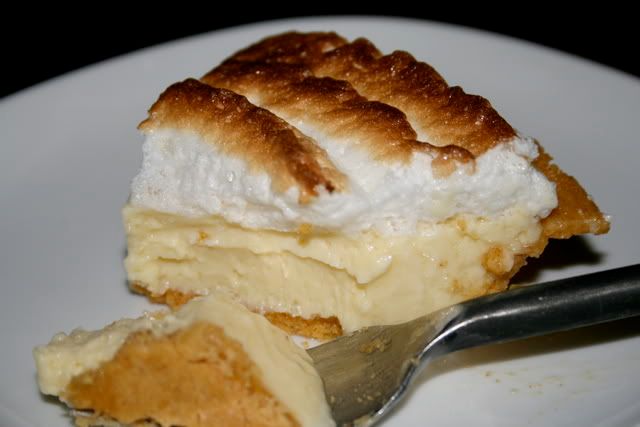 Florida Pie
1 9-inch graham cracker crust (page 235), fully baked and cooled, or a store-bought crust
1 1/3 cups heavy cream
1 1/2 cups shredded sweetened coconut
4 large eggs, seperated
1 14-ounce can sweetened condensed milk
1/2 cup fresh Key (or regular) lime juice (from about 5 regular limes)
1/4 cup of sugar
Getting Ready:
Center a rack in the oven and preheat the oven to 350 degrees F. Put the pie plate on a baking sheet lined with parchment of a silicone mat.
Put the cream and 1 cup of the coconut in a small saucepan and bring it to a boil over medium-low heat, stirring almost constantly. Continue to cook and stir until the cream is reduced by half and the mixture is slightly thickened. Scrape the coconut cream into a bowl and set it aside while you prepare the lime filling.
Working with a stand mixer, preferably fitted with a paddle attachment, or with a hand mixer in a large bowl beat the egg yolks at high speed until thick and pale. Reduce the mixer speed to low and beat in the condensed milk. Still on low, add half of the lime juice. When it is incorporated, add the reaming juice, again mixing until it is blended. Spread the coconut cream in the bottom of the graham cracker crust, and pour over the lime filling.
Bake the pie for 12 minutes. Transfer the pie to a cooling rack and cool for 15 minutes, then freeze the pie for at least 1 hour.
To Finish the Pie with Meringue:
Put the 4 egg whites and the sugar in a medium heavy-bottomed saucepan and heat over medium-low heat, whisking all the while, until the whites are hot to the touch. Transfer the whites to a stand mixer, fitted with the whisk attachment, or use a hand mixer in a large bowl, and beat the whites at high speed until they reach room temperature and hold firm peaks. Using a rubber spatula, fold the remaining 1/2 cup coconut into the meringue.
Spread the meringue over the top of the pie, and run the pie under the broiler until the top of the meringue is golden brown. (Or, if you've got a blowtorch, you can use it to brown the meringue.) Return the pie to the freezer for another 30 minutes or for up to 3 hours before serving.