I'm not ashamed to admit it. Sloppy Joes are one of my favorite meals. They're tangy and delicious and just one of those all-around great comfort foods that I go nuts for. Not eating meat at home kind of rules them out, but I've seen where people have made them with lentils, so I gave that a try tonight.
My standard recipe for
Sloppy Joes
is different from Sloppy Joes I've had anywhere else. Every other Sloppy Joe I've tried has been spicy, where my Sloppy Joes are sweet and tangy. Other Sloppy Joes have bell peppers or other veggies, where mine just have onions. So maybe my Sloppy Joes are unconventional, but at least they're mine, right? And it's a great vegan meal!
They were a big hit with all four of us. Hooray! The kids were skeptical when I told them they were made with lentils instead of ground beef, but they changed their minds as soon as they tried the first bite. And Brad ate THREE of them for dinner tonight. So yeah, we like these.
Do you like how I got all fancy with the cheesy X? Hee hee hee...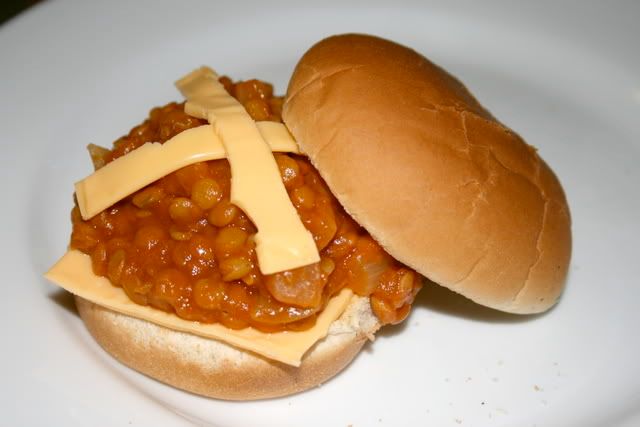 Lentil Sloppy Joes
1 1/2 cups dried lentils
4 cups water
1 Tbsp olive oil
1 onion, diced
3/4 cup ketchup
3 Tbsp yellow mustard
1 1/2 Tbsp cider vinegar
3 Tbsp packed brown sugar
salt and pepper
hamburger buns
Combine lentils and water in a medium saucepan. Bring to a boil, then reduce heat and simmer for 20 minutes.
Meanwhile, heat olive oil in a large skillet over medium-high heat. Add onion, and saute until it begins to soften, but not brown. Drain lentils and add to skillet, along with ketchup, mustard, vinegar and brown sugar. Add salt and pepper to taste. Reduce heat to low; cover and simmer 10 to 15 minutes. If the mixture is too soupy, remove the lid and simmer an additional 5 minutes.
Serve on hamburger buns.