Brad's mom made this cornbread pudding when my parents came to visit, and we all went nuts for it. It's a really simple comfort food, and totally hits the spot.
I served it tonight alongside some spicy broiled tempeh (
this recipe
, but broiled instead of grilled) and our favorite green salad with corn, hard-boiled egg and Coco's dressing. Yum! Great dinner, and quick to throw together, which I appreciate because I'm not feeling great today.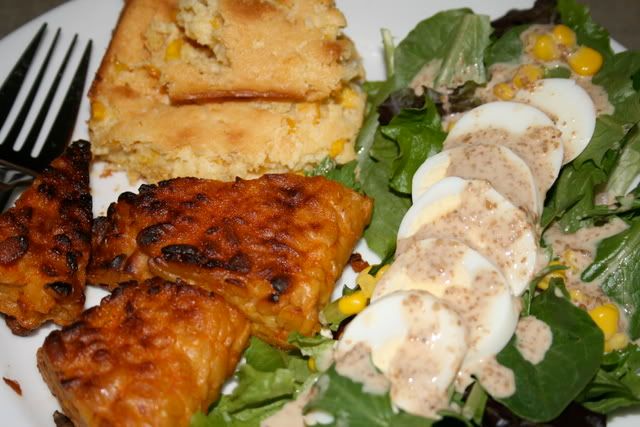 Cornbread Pudding
1 15-oz can whole kernel corn, drained
1 15-oz can cream style corn
1 cup sour cream (I used dairy-free)
1 8.5-oz corn muffin mix (I used the ubiquitous Jiffy)
1/2 cup vegetable oil
Preheat oven to 350. Grease a 9 x 9 inch baking pan. Combine all ingredients, pour into pan, and bake for 45 to 50 minutes.