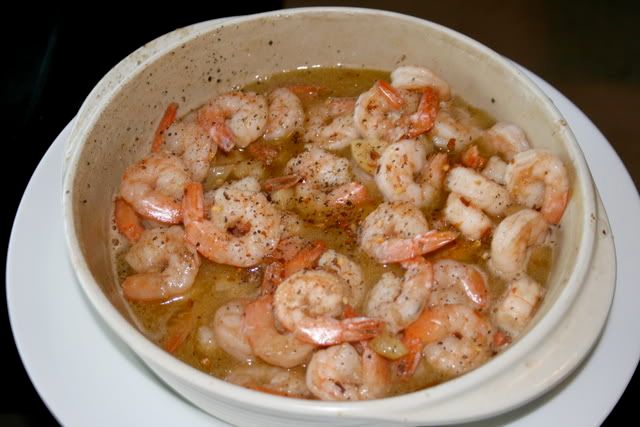 This is a recipe for Spanish style garlic shrimp that my mom got while we were living in Spain back in the 80s. It's very fast to make, and incredibly decadent and fabulous. I almost didn't make it tonight because I was tired and didn't feel much like cooking, but now I'm SO glad that I did. You should have seen us eating this, oohing and ahhing and making other yummy noises like Bill Murray in What About Bob?
Be sure to serve this with lots of crusty French bread for sopping up the delicious sauce!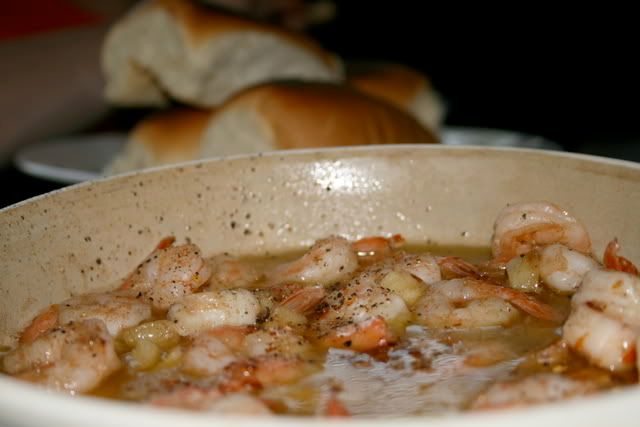 Garlic Shrimp
½ c olive oil
1/8 lb (1/2 stick) butter
1 head garlic
1 Tbsp crushed red pepper
5 lbs cooked, peeled shrimp
½ c cooking sherry or white wine
In a frying pan, melt the butter and olive oil together. When the butter has melted, add coarsely diced, peeled garlic and cook until garlic becomes soft. Add red pepper and shrimp; coat with garlic sauce. Stir until shrimp are warm. Add sherry or wine and simmer for 1 minute.