Back in college when I moved into my first apartment, I tried making baked beans from scratch, and failed miserably. I'd never cooked dry beans before, so when the directions said things like "add more liquid if the beans get too dry", I had no idea what "too dry" meant. The beans were awful. These days, when I wanted baked beans, I make them the shortcut way -- by starting with a can or pork and beans, and doctoring them up with a always varying mix of things like ketchup, mustard, molasses, maple syrup, brown sugar, and so forth. I don't use a recipe, I just go by taste with what I have on hand.
Being that it's been 12 years since I tried making baked beans from scratch, I figured it's about time I gave it another shot. I pretty much followed my usual ingredients, but started with dry beans. I didn't expect them to be that much better than my shortcut beans, but they were. The longer cooking time gave the flavors that much more time to soak in and deepen. Yum!
I don't know if I'd make them this way all the time, but I think they'll be an "every once in awhile" treat. I'm glad I made them today!
The quantities below are all rough approximations. I added ingredients all throughout the cooking time until I got them exactly how I wanted them at the end.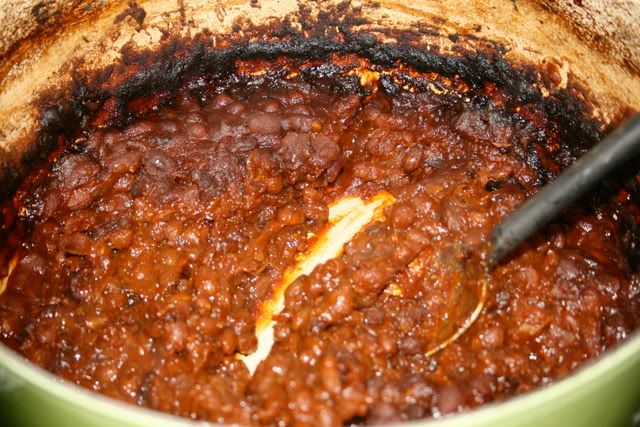 Baked Beans
1 lb dry navy beans
water, to cover
1 cup ketchup
1/2 cup molasses
2 Tbsp dry mustard
1/4 cup brown sugar
1 tsp salt
1 medium yellow onion, diced
6 oz bacon, roughly chopped
Place beans in a large pot, and add enough water to cover by several inches. Bring to a boil over high heat, then reduce heat and simmer for one hour.
Preheat oven to 350.
Drain beans, reserving cooking liquid. Add ketcup, molasses, mustard, brown sugar and salt. Stir to combine. The sauce ingredients will mostly sink to the bottom of the pot, but that's ok. Taste and adjust ingredients to suit your preferences. Stir in onions and bacon. Cover and bake 3 to 4 hours, adding more of the cooking liquid if the beans begin to dry up, until beans are tender.