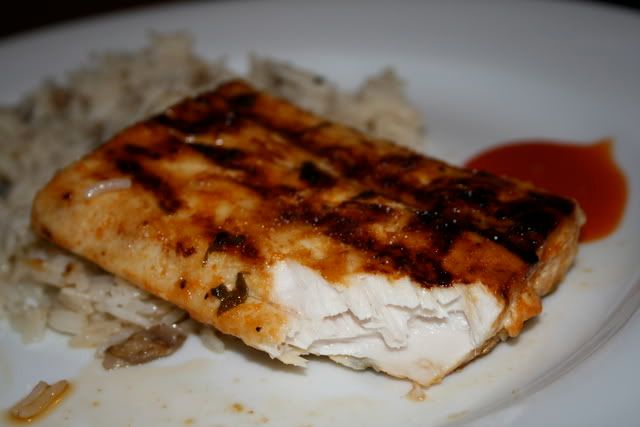 This was one of those "wing it" recipes. I used to struggle with cooking anything without a recipe, which probably stems from my early start as a baker when I was in early elementary school. You can't just toss stuff into a cake batter willy-nilly and expect it to turn out, after all. But over time I've gotten somewhat better at it, and now I really enjoy sometimes coming up with my own recipes, or at least my own twist on someone else's recipe.
When we visited the Tabasco Factory on Avery Island a few weeks ago, we picked up a bottle of Tabasco's new Sweet & Spicy Pepper Sauce. Brad requested that we have some grilled fish featuring the sauce, so that's what we did tonight. I thought the fish would be a little bland with only that sauce, so I threw together a quick zesty-tangy-sweet sauce to marinade the fish in, and then basted the fish with the Sweet & Spicy Pepper Sauce while grilling. Perfect!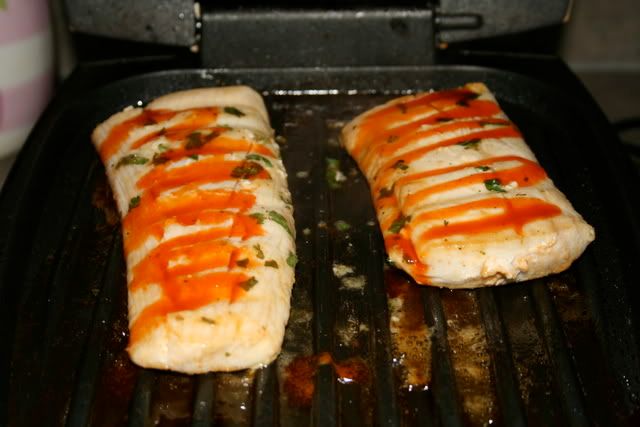 I served this with an
Almond, Mushroom & Shallot Rice Pilaf
.
Spicy-Sweet Mahi Mahi
mahi mahi steaks or filets
1/4 cup olive oil
1/4 cup lime juice and lemon juice mix
2 Tbsp honey
2 Tbsp soy sauce
1 tsp fresh grated ginger
2 Tbsp cilantro, finely chopped
salt & pepper
Whisk together olive oil, lime juice, lemon juice, honey, soy sauce, ginger and cilantro, seasoning with salt and pepper to taste. Pour into a shallow bowl, and add fish, turning to coat. Marinade in the refrigerator for 20 minutes.
Lightly grease a clam-shell grill (like George Foreman Grill) with oil or cooking spray. Remove fish from marinade and discard any unused marinade. Place fish on the grill, and grill until the fish flakes easily (should be about 2 to 3 minutes per 1/2-inch of thickness). Carefully remove from the grill, and serve.