I started making this recipe several years ago, and it's been a staple ever since. It's fast and easy, plus there's the added benefit of being able to make it ahead of time. Just mix it together the night before, and leave it in the fridge until the following evening. Or if you're home during the days, mix it up whenever you have a free minute, then stick it in the fridge until dinner time.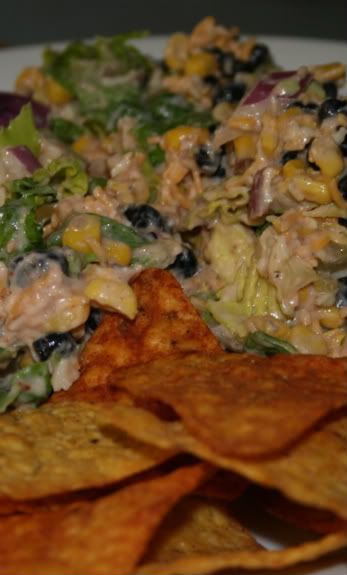 I didn't go grocery shopping until this afternoon, so I just layered it, snapped some pictures, then we ate it right away. ; ) Sadly, the tomatoes at the store looked absolutely awful, so we didn't get to have any in our salad. It would have looked so much prettier with it, but at least it was still yummy!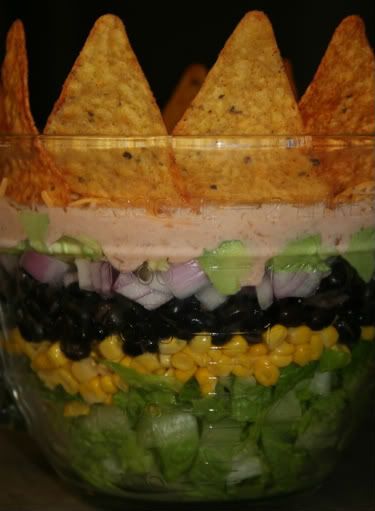 Make-Ahead Mexican Salad
2/3 cup salsa
1/2 cup sour cream
6 cup romaine lettuce, chopped
12 oz canned black beans, drained & rinsed
1 cup canned yellow corn, drained & rinsed
1/2 cup diced red onion
1/2 medium avocado, diced
1 medium tomato, diced
1 cup cheddar cheese, shredded
Combine sour cream and salsa; set aside.
Layer remaining ingredients except cheese in a large salad bowl in the order listed. Spread dressing over the top, sealing to the edges. Sprinkle cheese evenly on top. Cover and refrigerate for several hours or overnight. Toss immediately before serving.
Variations:
If desired, add chopped cilantro, sliced olives, or other desired ingredients.
Crumble Doritos onto individual servings.
To make this a heartier meal, add chunks of cooked chicken.