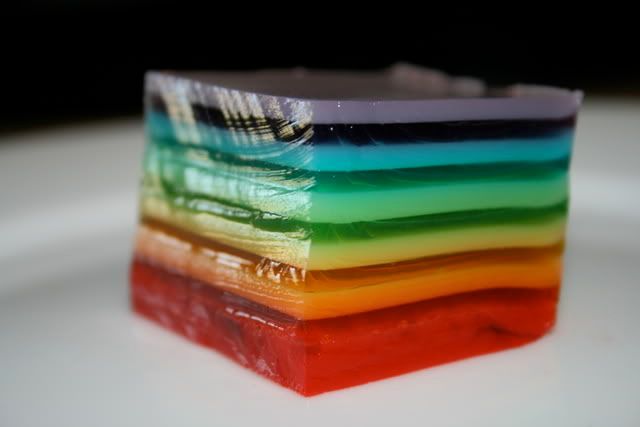 This is a fairly time-consuming recipe, but it's totally worth it at the end, especially if you have kids. You can do this in rainbow colors, or customize colors to your event -- red and green for Christmas; orange and yellow for Thanksgiving; green, yellow and purple for Mardi Gras; purple and yellow for LSU tailgating. I went with rainbow colors today. The store was out of blue jello, so I bought some nasty little kids' squeeze bottles of blue punch, and used one of those with unflavored gelatin for the blue layer. It worked.
You can make this in whatever shape pan you want. Bundt pans make a particularly attractive mold, or you can make it in a square or rectangular pan and then cut it into individual squares for serving.
Brad suggested I make purple and yellow ones with vodka for tailgating next football season! Oh, baby!
Rainbow Jello
Small boxes of Jello, in rainbow colors (red, orange, yellow, green, blue, purple, or whatever colors you want)
Cool whip, sour cream or plain yogurt
Grease a pan with baking spray. Clear out a level spot in the refrigerator. Put the prepared pan in the refrigerator to chill.
Add one packet of Jello to 1 cup of boiling water. Stir 2 to 3 minutes to dissolve completely. Pour 2/3 cup of the Jello into the prepared pan, and chill for 15 minutes. Meanwhile, add enough Cool Whip to the remaining Jello to make 2/3 cup. Stir to completely melt the Cool Whip. When first layer has set for 15 minutes, carefully pour Jello/Cool Whip mixture over it, and chill for 15 minutes. Repeat with remaining colors. Once all layers have been poured, allow to chill for at least 2 hours. Unmold onto a serving platter, if desired, or cut into squares and serve.
Note: The way I did this was to mix up the next color as soon as I poured the first layer of the previous color. For example, as soon as I poured the first layer of yellow jello, I heated up water and mixed up the green jello. Once it was dissolved, I poured 2/3 cup of the green jello into another measuring cup, then stirred in the Cool Whip to the rest of it. You need three measuring cups to do it this way. That gives it some time to cool down a little before it's time to pour it into the pan, but not so much time that it begins to set up too much to pour.