I came across
this recipe from VeganYumYum
earlier this year, and was immediately attracted to the idea of a vinaigrette and cream on pasta. I used prepackaged gnocchi, so it was a very quick meal to throw together.
I made
my mom's spinach salad
to go with it, omitting the eggs, subbing vegetarian bacon, and toasted pecans instead of slivered almonds. Delicious!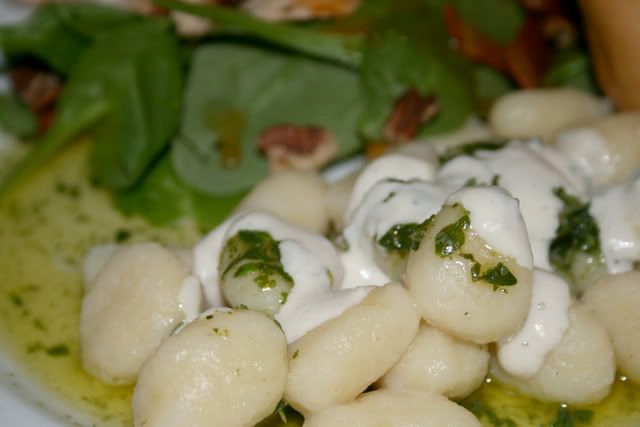 Overall, the gnocchi was good, but the combination of the lemon in the cashew cream, and the vinegar in the vinaigrette was just a little too much for me. Next time I think I'll just go with something like a mushroom wine sauce. But the thyme vinaigrette is absolutely delicious, and I think it would be fantastic on salad, or for dipping crusty french bread. Definitely a keeper! I want to give a big THANK YOU to VeganYumYum for a great recipe! I can't remember for sure, but I think this might be the first recipe I've made from that blog, but I've been reading it for a long time. Go check it out if you're not familiar with it. It's a well-written blog with stunning pictures. Keep up the good work!