I promised my co-workers that I'd bring in some goodies, so I whipped up a batch of blueberry muffins to bring in tomorrow. It was also a good excuse to try a vegan muffin recipe.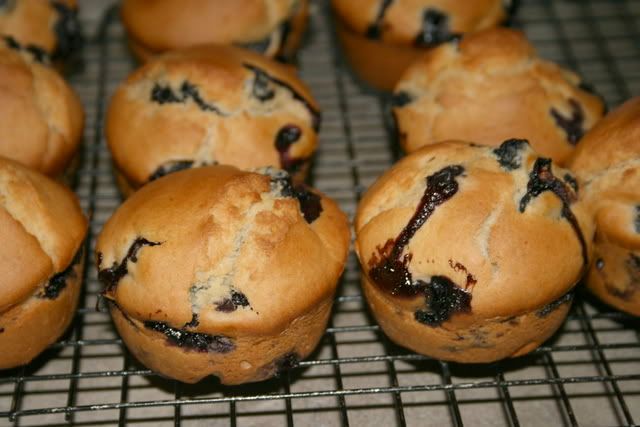 I made some regular muffins, and some mini muffins. Because, come on, miniature food is just cool.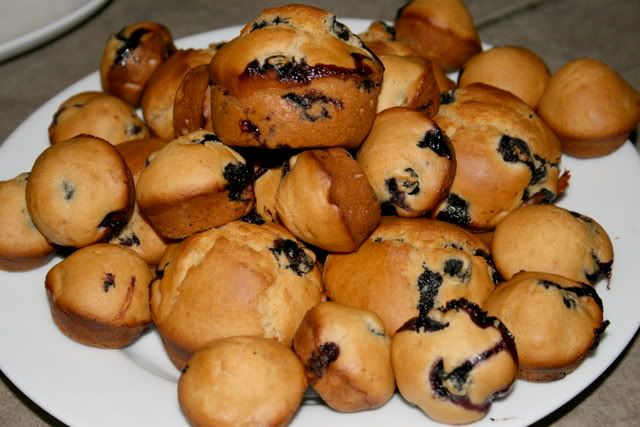 These were good, but it was my first time cooking with blue agave nectar, and I think next time I'd increase it to 3/4 cup. These weren't very sweet, which on one hand was kind of refreshing, but on the other hand, was a little disappointing.
Vegan Blueberry Muffins
3 cups flour
4 tsp baking powder
1 tsp salt
1/2 cup blue agave nectar
1 cup soy, almond or rice milk
1/3 cup vegetable oil
2 cups fresh or frozen blueberries
Preheat oven to 400. Grease a muffin pan with cooking spray.
In a large mixing bowl, combine flour, baking powder and salt. In a large measuring cup, combine agave nectar, milk and oil. Whisk together to mix thoroughly. Add wet ingredients to dry ingredients. Stir just until dry ingredients are moistened. Do not over-mix. Gently fold in blueberries.
Fill muffin cups to 3/4 full. Bake 20 to 25 minutes for standard muffins, or 10 to 12 minutes for mini muffins.