Cherry Limeades from Sonic are one of my new favorite things. They're so refreshing and yummy, and it's great that they have a lo-cal diet cherry limeade, too. Nice!
When we were sipping on some a few weeks ago, Brad said he'd like to try making a cocktail version of one sometime, so here it is! It's so good! I'll admit that I'm totally a girly drinker. I don't like beer (after a bad experience at a Navy command party with two kegs 5 years ago. Oops.), and I like my alcohol sweet and fruity, so this drink is right up my alley.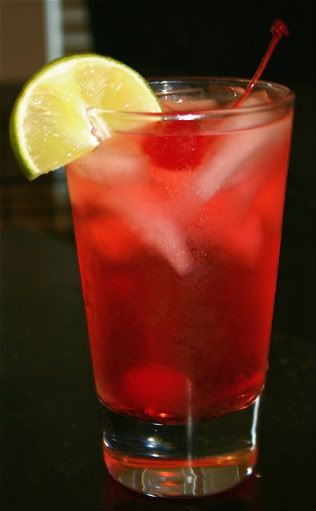 Now all that remains is to come up with a name. What do you think we should call it? Cherry Bomb? It'll Fuck You Up Cherry Limeade? Supersonic Cherry Limeade? Come on, folks, give me your suggestions!
The Yet To Be Named Cocktail
2 oz light rum
Sprite
1/4 cup cherry juice (not concentrate)
1/4 lime, juiced
2 to 3 tsp maraschino cherry syrup
In a tall glass filled with ice, add rum, then fill to within 1 inch of the top with Sprite. Add cherry juice, lime juice, and cherry syrup. Stir to combine. Garnish with a lime wedge and a maraschino cherry. Serve immediately.
Yield: 1 large or 2 small cocktails