Who doesn't love a good broccoli rice casserole? It's one of those down-home comfort foods that just hit the spot and makes you feel good. This vegan version is equally satisfying, and soooo much lower in fat, plus it has healthy things in it, like low-fat, protein-rich, cholesterol-free tofu instead of sour cream or mayo, and nutritional yeast instead of cheese. Yum! If you wanted to go the extra mile, you could use brown rice instead of white, but I didn't have any on hand today. You can also shorten the cooking time significantly if you cook the broccoli before adding it to the rice mixture. Just make sure you undercook it, so it doesn't get mushy while baking.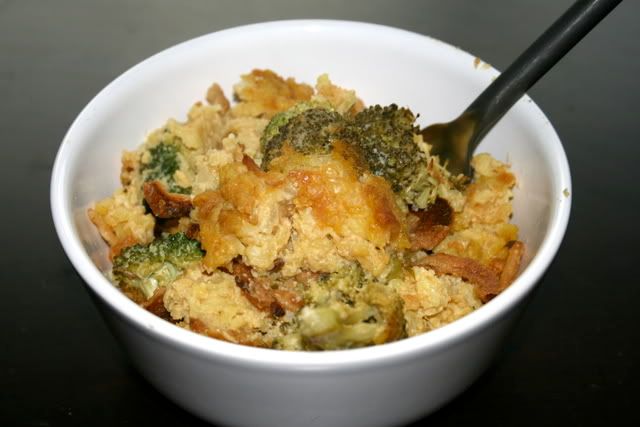 This was a big hit with Brad and Lydia, but Meg only wanted plain steamed white rice because it's her favorite. Oh well.
Broccoli Rice Casserole
2 cups dry rice, plus water to cook
1 block silken tofu
3 Tbsp lemon juice
1 Tbsp sugar
1 tsp salt
1 Tbsp dry mustard
3/4 cup nutritional yeast
1 large head broccoli, cut into florets
2 cups french fried onions, divided
Cook the 2 cups rice per package directions.
While the rice is cooking, add tofu, lemon juice, sugar, salt and dry mustard in a food processor. Process until very smooth.
Preheat oven to 350. When rice is done cooking, empty into a large mixing bowl. Add tofu mixture and stir gently to combine. Add nutritional yeast, broccoli and 1 1/2 cups of the french fried onions, combining thoroughly. Taste and adjust salt to your taste, if necessary.
Pour into a greased casserole dish. Bake 45 minutes, or until heated through and golden brown on top, and broccoli is crisp tender. Sprinkle remaining french fried onions on top, and return to oven for 2-3 minutes.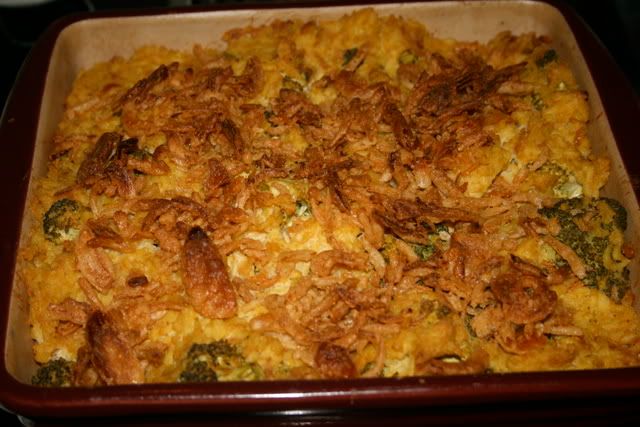 And just for fun, I thought you all might get a kick out of how Ringo was napping today. Silly dog!