This week is my first
Tuesdays with Dorie
recipe, Gooey Chocolate Cakes, chosen by Leigh of
Lemon Tartlet
! I joined the group last week, and have been so excited to take part in the fun!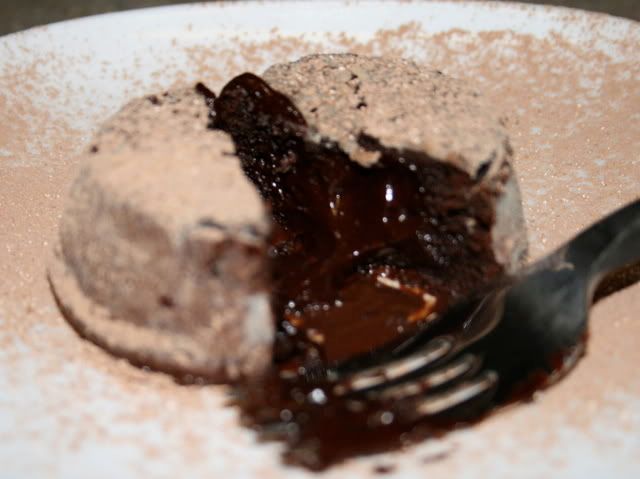 The cakes were fairly simple, and very quick to mix up, but I did have a few small complications with the recipe. First, the only muffin pan I have is a stoneware piece, which typically requires the baking time to be extended by 4 or 5 minutes. These cakes cook so quickly, though, and are supposed to be gooey inside, so it was hard to know how long to bake them. I ended up extending the cooking time by 3 minutes, which turned out to be a little too long. The cakes were somewhat gooey inside, but I was hoping for a more molten texture.
The other issue I had was in regards to greasing and flouring the muffin cups. My stoneware is pretty well seasoned, such that most muffins and cupcakes just pop right out, and I should have just stuck with that. But I hated the thought that they might not turn out neatly after baking, so I greased and floured them as directed. Yeah. When I turned the cakes out of the pan, they were all white from the flour! Who wants that??? Grrrr. I dusted them with a powdered sugar-cocoa powder mixture to make them more attractive, so it wasn't a disaster or anything. Next time I will probably forego the greasing and flouring, and just trust my stoneware to let go of the cakes when it's time.
I'm wondering what others' experiences were with the flouring. I just barely sprayed mine with cooking spray, and then floured them lightly. Did I do something wrong?
Anyway, they tasted fabulous, and were enjoyed by all. The kids, who were already in bed, came creeping out saying "something smells like dessert." Hee hee hee! We let them have a little bite, then sent them back to re-brush their teeth before returning to bed, and then today they're having the leftovers for an after school snack. I figured they'd be way too rich for little girls (5 and 9), but they loved them!
All in all, the recipe was a success, and I will definitely make them again!
Gooey Chocolate Cakes
1/3 cup all-purpose flour
3 tablespoons unsweetened cocoa powder
¼ teaspoon salt
5 ounces bittersweet chocolate -- 4 ounces coarsely chopped and 1 ounce very finely chopped
1 stick (8 tablespoons) unsalted butter, cut into 8 pieces
2 large eggs, at room temperature
1 large egg yolk, at room temperature
6 tablespoons of sugar
Getting ready: Center a rack in the oven and preheat the oven to 400 degrees F. butter (or spray – it's easier) 6 cups of a regular-size muffin pan, preferably a disposable aluminum foil pan, dust the insides with flour and tap out the excess. Put the muffin pan on a baking sheet.
Sift the flour, cocoa and salt together.
Set a heatproof bowl over a saucepan of gently simmering water, put the coarsely chopped chocolate and the butter in the bowl and stir occasionally over the simmering water just until they are melted – you don't want them to get so hot that the butter separates. Remove the bowl from the pan of water.
In a large bowl, whisk the eggs and yolk until homogenous. Add the sugar and whisk until well blended, about 2 minutes. Add the dry ingredients and, still using the whisk, stir (don't beat) them into the eggs. Little by little, and using a light hand, stir in the melted chocolate and butter. Divide the batter evenly among the muffin cups and sprinkle the finely chopped chocolate over the batter.
Bake the cakes for 13 minutes. Transfer them, still on the baking sheet, to a rack to cool for 3 minutes. (There is no way to test that these cakes are properly baked, because the inside remains liquid.)
Line a cutting board with a silicone baking mat or parchment or wax paper, and, after the 3-minute rest, unmold the cakes onto the board. Use a wide metal spatula to lift the cakes onto dessert plates.