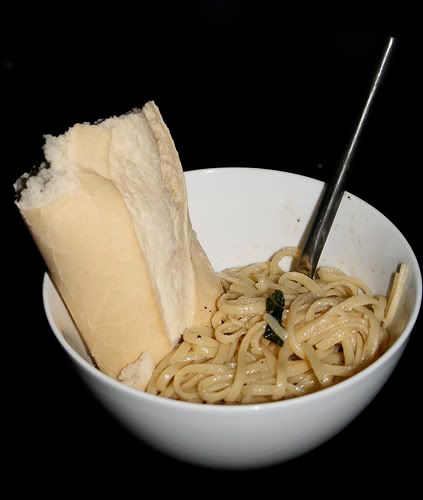 Tonight's dinner was
Crispy Sage and Brown Butter Pasta
, from
Technicolor Kitchen
. If you're looking for a really simple, really delicious, really decadent dinner, definitely try this recipe. I couldn't believe how fast and easy it was, and how absolutely delicious!
Crispy Sage and Brown Butter Pasta
200g (7oz) spaghetti
50g (1 ¾oz) unsalted butter
1/3 cup sage leaves
1 tablespoon lemon juice
sea salt and freshly ground black pepper
grated parmesan, to serve
Place the pasta in a large saucepan of salted boiling water and cook until al dente; drain and set aside.
Meanwhile, heat a non-stick frying pan over medium heat. Add the butter and stir until melted. Add the sage and cook for 2-3 minutes or until the sage is crispy and the butter is browned.
Stir through the lemon juice, drained pasta, salt and pepper and toss to combine.
Top with the parmesan and serve.
Serves 2