This is one of those recipes I've wanted to try for ages, but haven't had a chance to. Brad doesn't care for pumpkin, and he despises peanut butter, so this soup is definitely not something he's interested in eating. But since he's still in Japan, and I happened to have the ingredients on hand, I jumped at the chance to finally try it. It totally hit the spot, and was easy to throw together. After tasting it, I know Brad would hate it, but this will go on the list of things to make in the future when he's out of town. Gotta love a husband who travels, right? ; )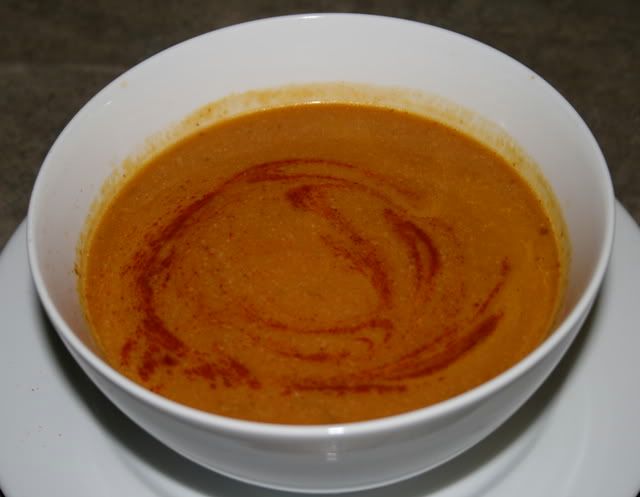 I think this would look really pretty garnished with some cilantro and chopped peanuts, but hey, I made it work with what I had in the pantry!
Pumpkin Peanut Soup
1 Tbsp olive oil
1 medium onion, diced
1/4 cup chopped shallots
2 cloves garlic, minced
1/4 teaspoon thyme
3 cups vegetable broth
1 15-oz can pumpkin
1 14-oz can light coconut milk
1/2 cup creamy peanut butter
salt and pepper
cayenne pepper
Heat olive oil in a large pot over medium-high heat. Add onion and shallots. Cook and stir for several minutes, or until onion is softened and translucent. Add garlic and thyme, and cook for 1 minute longer. Stir in vegetable broth and pumpkin. Bring to a boil; reduce heat, cover and simmer for 15 minutes, stirring occasionally.
Remove from heat. Add coconut milk and peanut butter. If desired, process in a blender or food processor until smooth, then return to stove to heat through. Season to taste with salt and pepper. Sprinkle individual servings with cayenne pepper, if desired.