I've been craving a Reuben sandwich lately, and today we decided to try our hand at a vegetarian version. Surprisingly, rye bread was nowhere to be found at the grocery store. I guess it's an exotic ethnic food around here (picture me rolling my eyes)? So we used individual ciabatta rolls instead. I made some vegan Thousand Island dressing with Vegenaise, ketchup, sweet pickle relish, white wine vinegar, and threw in some caraway seed to try to make up for the absence of rye bread. It worked!
We used vegan Boca Burgers, topped them with sauerkraut and the dressing, and Brad had swiss cheese on his while I kept mine vegan.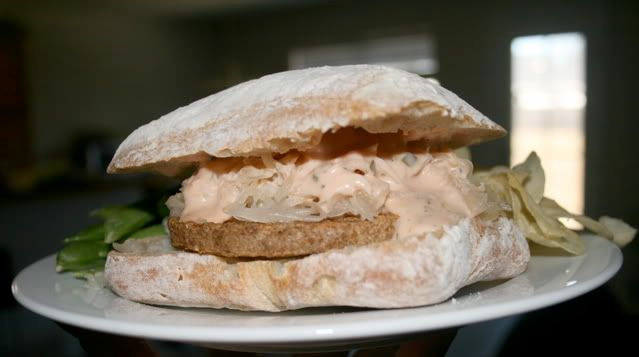 It was good! The sauerkraut, caraway and Thousand Island dressing are, for me, what makes up the essence of a Reuben, so I was happy. I actually took my Boca Burger off midway through and gave it to the dogs, and just ate what amounts to a Sauerkraut and Thousand Island sandwich, and enjoyed it even more that way. Next time I might roast up some veggies like eggplant and zucchini, and put them on in place of the Boca Burger. I bet it would be good!