Spicy Thai pizza with peanut sauce was one of my favorite pizzas back in college. Zeek's Pizza in Seattle makes a fantastic one, though it was difficult to find enough people interested in splitting one to make it worthwhile to order, so I didn't get to indulge very often. Zeek's also makes an awesome BBQ chicken pizza, so I was happy to settle for that instead.
A friend online mentioned last week that she was going to make a Thai pizza like this, and I immediately added it to this week's menu. I made my very simple pizza dough, patted it out on my pizza stone, and glazed it with a little olive oil. I loaded it up with bean sprouts, shredded carrot, coarsely chopped red onion, soy sauce basted grilled tofu cut into chunks, little broccoli florets, and loads of fresh cilantro. I put mozzarella cheese on Brad's half, but left it off mine. Pizza is something I'm usually willing to splurge on, and veer out of my mostly vegan diet for, but I really don't need it for this pizza. I also whipped up a quick batch of peanut sauce, which we drizzled over the pizza after it came out of the oven, as well as a dish of it on the side for dipping. I also garnished the pizza with chopped peanuts and crushed red pepper.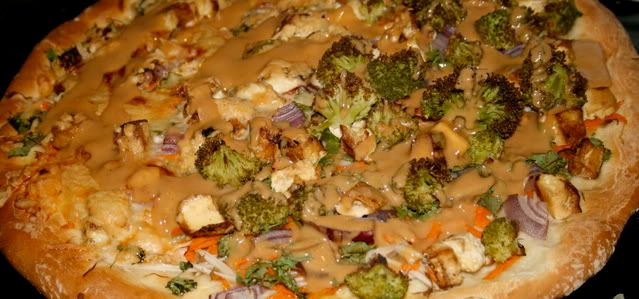 The verdict? Delicious! I love homemade pizza, and I love unusual pizza, so this satisfies both. I honestly didn't even miss the cheese.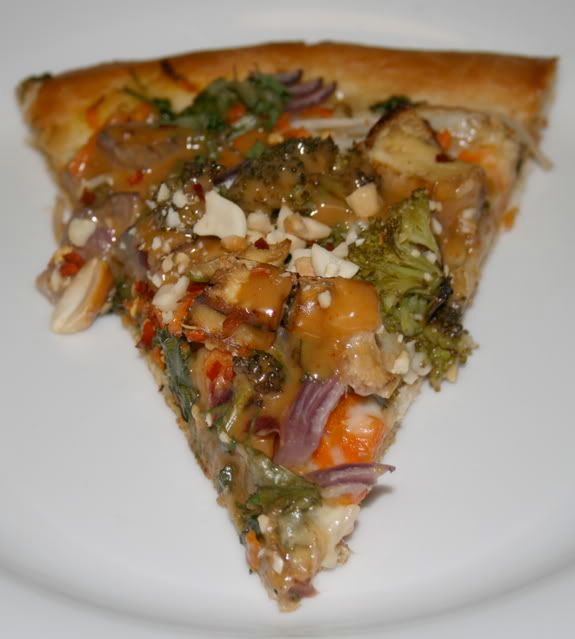 I'd also like to give a shout out to my sweet husband Brad, who decided while he was in Japan that he wanted to become a vegetarian, too! Hooray for Brad! He's not at all interested in going vegan, which I can understand, but I'm proud of him, and excited for both of us, that he's an "all the way" vegetarian now! He's been completely meat-free for a week and a half now, and said that he feels better than he has in ages. Way to go, Brad!