Brad left for Japan this morning, which is very sad for me, but my mom is visiting, which means I have the opportunity to try out a bunch of recipes that I've been interested in, but that didn't appeal to Brad. Gotta take lemons and make 'em into lemonade, right? I'm so excited that my mom is here, and am looking forward to spending the next 10 days with her. Hooray!
The first recipe on the list was Creamy Asian Pear and Tempeh Salad with Wasabi Dressing, from Veganomicon. I won't give out the whole recipe, since I don't want to step on their toes, and because I think everyone out there should go pick up a copy of this awesome book. But I will tell you that the salad contains tempeh, pear (no Asian pears to be found today, so we just used a Bosc) , green onions, and a spicy Vegenaise-based dressing. Oh, baby!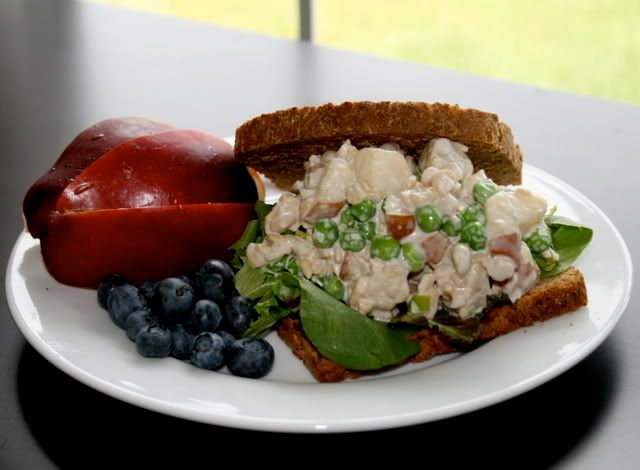 I served mine on some absolutely delicious sprouted soy wheat bread, toasted, with baby greens. That, with an apple and some blueberries, made a delicious lunch.