Lydia wanted to make breakfast this morning, so she chose the pancakes recipe from her Strawberry Shortcake cookbook (that cookbook may sound cheesy, but the recipes we've made -- macaroni & cheese, spaghetti sauce, vegetable soup, and more -- have all been surprisingly good!). The pancakes recipe sounded good enough, but I didn't want to use eggs, so Lydia got online and searched for vegan substitutes. She came up with 2 Tbsp of cornstarch for each egg, so we set off to give it a try.
It worked! I'll admit I was skeptical, but it really did work! Woohoo!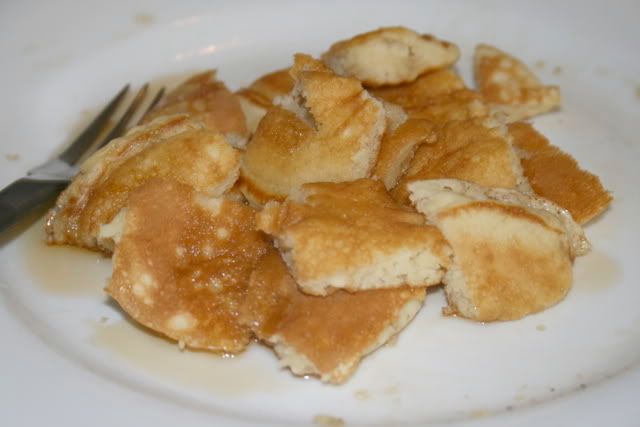 We tweaked the recipe somewhat, using blue agave nectar instead of sugar, and adding some cinnamon. Lydia did a good job cooking, although she definitely needs to learn to take more time to read the instructions. She ends up getting ahead of herself and skipping portions of steps, or even entire ones. But she's learning!
You could do a lot of things with this basic recipe. Stir in some grated apple, mashed banana, or berries; add some chopped nuts; replace half the all-purpose flour with whole-wheat flour; or whatever strikes your fancy. Yum!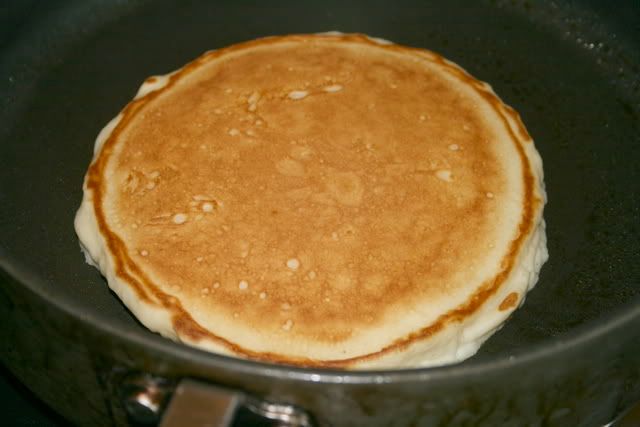 Vegan Pancakes
2 cups all-purpose flour
1 tsp salt
1/2 tsp cinnamon
5 tsp baking powder
4 Tbsp cornstarch
2 cups soy milk
3 Tbsp vegan margarine, melted
3 Tbsp blue agave nectar
Whisk together flour, salt, cinnamon, baking powder and cornstarch in a large mixing bowl. In a medium mixing bowl, combine soy milk, margarine and blue agave nectar. Add soy milk mixture to dry ingredients, and whisk to combine thoroughly.
Heat a skillet or griddle to medium-high heat, spray with cooking spray, and pour the batter in 1/2-cup portions. When bubbles break on the surface and hold their shape, flip pancakes. Cook an additional minute on the other side, then remove to a plate, and serve.