Tuesdays with Dorie time! Or Wednesdays with Dorie, in my case. Sorry I wasn't able to deliver yesterday, but better late than never, right?
This week's recipe, La Palette's Strawberry Tart, was chosen by Marie of
A Year at Oak Cottage
. The kids and I adore strawberries, but Brad hates them. Alas, no dessert for him. I don't often make things that I know he won't enjoy, but I didn't want to miss another week of TWD, and I've never made a strawberry pie or tart before, so I went for it.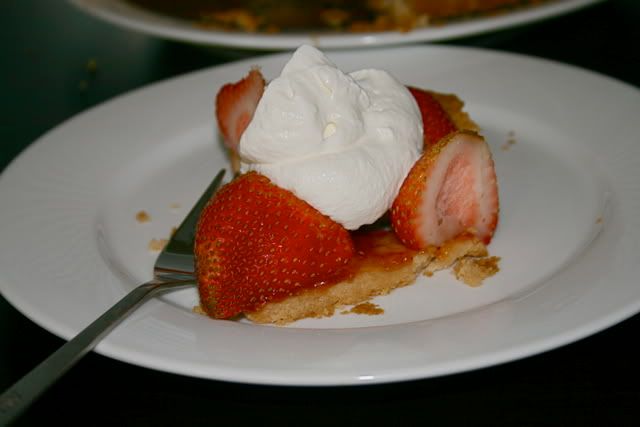 It was easy peasy to make. The crust is a cinch, then I just brushed it with strawberry jam, filled it with halved strawberries, drizzled with them a little Chambord, and served it with a dollop of freshly whipped cream on top. Voila!
There were a few speed bumps along the way, but they were minor. First, I didn't realize that we were out of butter when it came time to make the crust, so I had to use two parts vegan margarine, one part shortening, and one part vegetable oil. Yikes! I also left out the egg yolk, just to see how it would work without, and it turned out beautifully! I also didn't have fine quality strawberry jam, but you know what? The cheapo generic kind I buy for the kids sandwiches worked just fine. And the only fruity liqueur I had was Chambord. Again, though...it worked. And really well! We're on a budget, us later-in-life-returning to-college students, so I'm glad I was able to piece this tart together with what we had on hand. All I had to buy was strawberries and whipping cream. Nice!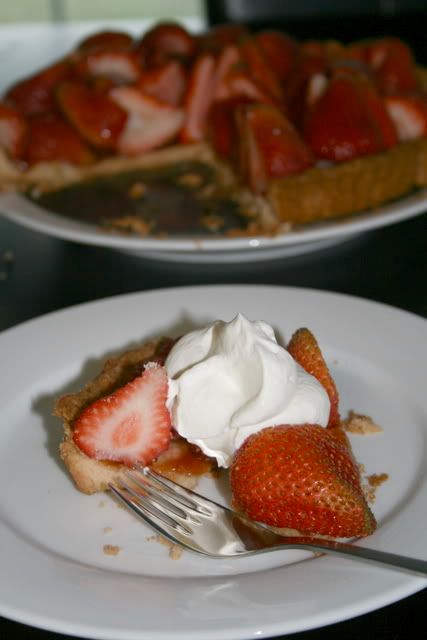 I think my overall preference is my mom's fresh strawberry pie, made with a cream cheese layer in the pre-baked crust, then topped with fresh strawberries and a strawberry glaze. But this is such a nice, simple, fresh tart, and I love it for what it is!
If you don't have Dorie's book yet, I highly recommend you go get a copy. The decision has been made to no longer post the recipes in our blogs, which I think is awesome, but hopefully the recipes you've seen here, as well as on other blogs, will be the motivation you need to run out and get yourself your own copy of this book. I love it! Plus, then you could join in on the TWD fun!
If you do as I did, and use non-dairy fats in the crust, and (not as I did) use a non-dairy whipped topping, this would be a vegan recipe. Nice!