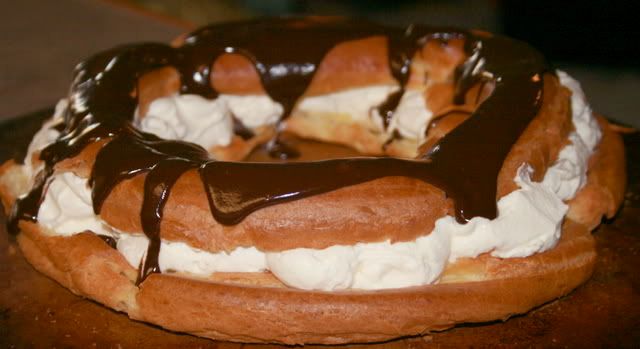 Tuesdays with Dorie time! Hooray!
This week's recipe, Peppermint Cream Puff Ring, was chosen by Caroline of
A Consuming Passion
. I'd only made cream puffs once before, years ago, so I was looking forward to making them again.
The cream puff dough came together in a snap, and was easy enough to pipe into a circle. I didn't have a pastry bag, so I just used a Ziploc gallon bag, and snipped off the corner. Who says I'm not resourceful? It baked and puffed up beautifully. And then collapsed. Huh. But no harm done, because by the time I sawed off the top, filled the bottom with whipped cream, and placed the top back on, it looked great! I chose not to flavor my cream with mint, and instead just gave it a little shot of vanilla extract for flavoring. And I again took a shortcut and mixed up my chocolate glaze in the microwave, and it worked like a charm.
This recipe was enjoyed by all, adults and children alike. Success!
My pictures, on the other hand, SUCK. I don't know what was up with my camera, or maybe it was just too dark in our house, but even after I did all I could to adjust the lighting on my computer, they're still dark and dull. Lame. I'll share them anyway, just don't judge me by these photos, ok?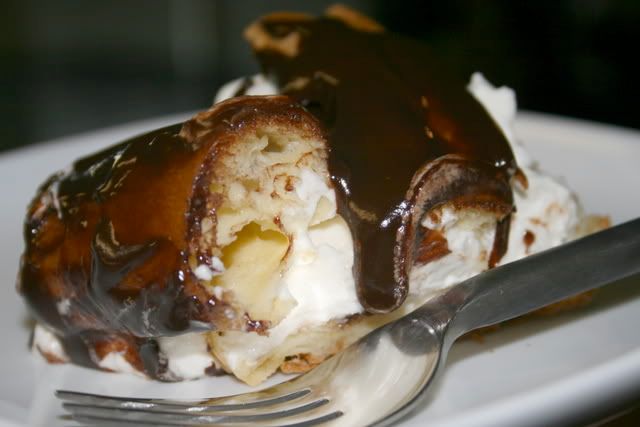 Here's Lydia, my goofbug, checking it for structural integrity.