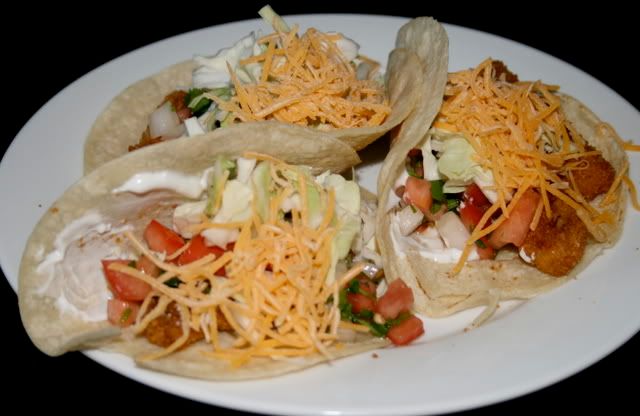 Who knew these were so easy? And so incredibly, crazy delicious? In fact, I think we're going to push back tomorrow's planned dinner, and have these again, because there's still plenty of tortillas, pico de gallo, cabbage, lime crema, and fish sticks. Why not, right?
Three of these makes a hearty serving.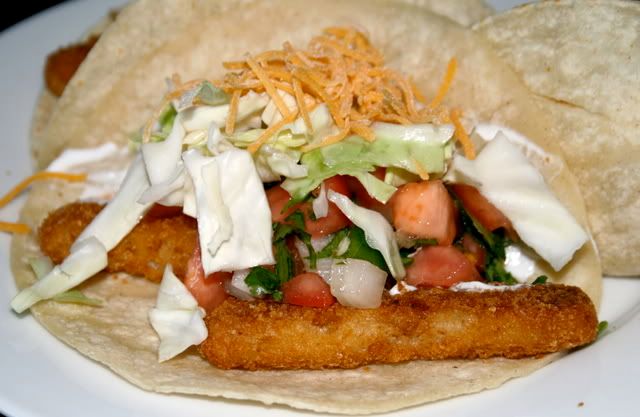 Fish Tacos
1/2 head cabbage
red wine vinegar
fish sticks (2 per taco), cooked
1 cup sour cream
1 lime juiced
shredded cheddar cheese
pico de gallo
corn tortillas
Shred the cabbage, and toss with a liberal amount of red wine vinegar; set aside.
Juice the lime and whisk together lime juice and sour cream; set aside.
Heat a small skillet over medium-high heat. Do not grease. Heat corn tortillas one at a time, for about 20 seconds per side, until warm and pliable. Fold in half and remove to a plate while you continue heating the rest.
To make tacos, put 2 fish sticks in each corn tortilla, dollop with lime sour cream, add a few spoonfuls of pico de gallo, and sprinkle with cheddar cheese. Serve immediately.