Oh, this salad rocks! Wow! I can't say enough good things about it! I found it
here
on
Vegalicious
, and have been chomping at the bit to make it. It was SO easy to throw together after work -- no cooking involved -- and came together in a snap. I filled my bowl halfway with fresh spinach, then piled the bean salad on top, so my salad was all coated with the yummy dressing after I ate the salad. Nice!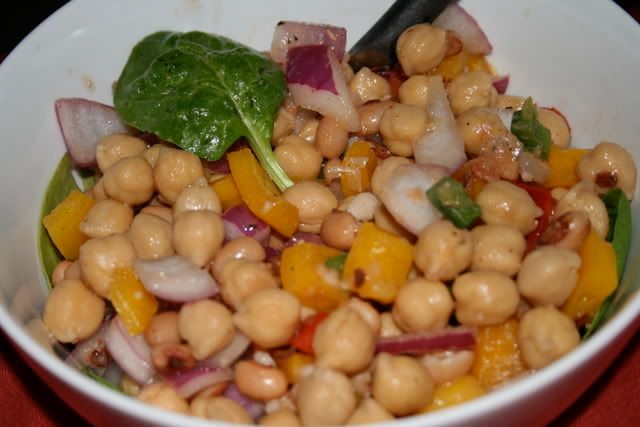 I forgot to put avocado on Brad's shopping list, so unfortunately that was missing from our salad, but I also threw in a can of garbanzo beans to bulk it up a bit. And thank goodness I did, because between the two of us, we still devoured the entire batch tonight, with some yummy rolls.
This is a great summertime dish, so I think I'm going to make it to take to the Fourth of July pool party we're going to next weekend. Yum!
Black-eyed Pea Salad
1 cup dried black-eyed peas, or 1 (14 oz.) can, rinsed and drained
1 medium bell pepper, chopped (I prefer red, orange or yellow bell peppers as they are sweeter)
1 red onion, chopped
2-3 jalapeno pepper, seeded and finely minced
1 clove garlic, minced
1 avocado, cubed
2 tablespoons lemon juice
1/4 cup olive oil
3 tablespoons red wine vinegar
salt and pepper
pinch cayenne pepper
dash Tabasco
2 teaspoons sugar
If using dried black eyed peas, soak them for at least 2-3 hours then boil in salted water for 45 minutes or until soft.
Toss together black-eyed peas, bell pepper, onion, jalapeno pepper, and garlic in large bowl.
Toss avocado with lemon juice in separate bowl.
Add avocado to black-eyed pea mixture.
Whisk together oil, vinegar, Tabasco, cayenne, and sugar in the bowl used for the avocado.
Toss black-eyed pea mixture with dressing.
Serve at room temperature in a lettuce cup.