Tonight we were a good Veganomicon family. If you don't have a copy of this book yet, I highly recommend you go buy it. Even if you're not vegan or even vegetarian, there are some awesome recipes in there, and it's a great way to try adding some meat-free meals to your menu. I love this cookbook!
For dinner this evening, I made chickpea cutlets with mashed potatoes and mushroom gravy. The cutlets and the gravy were out of Veganomicon. I think I must have done something wrong with the cutlets, because a friend made them and told me they were very "meaty", but ours were just mushy and stringy. Huh. They still tasted good, but being that I'm a texture person, I was disappointed. I'm going to try them again another time, though, and see if I can figure out what I did wrong. The gravy, on the other hand, was fabulous! It's made with a vegetable broth, and lots of sliced onions and mushrooms. Yum! The kids loved it, too.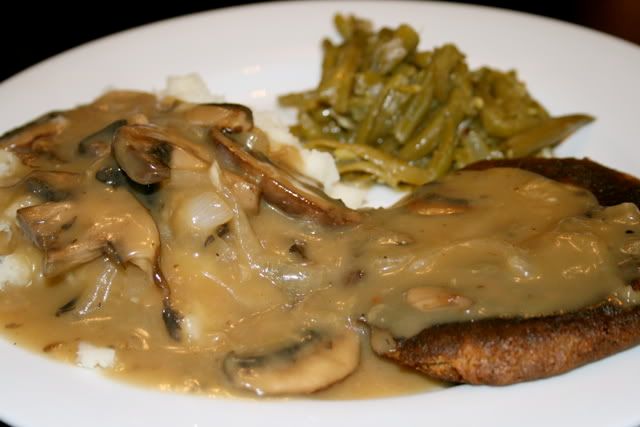 We also had some green beans that I brought home from work. Nearly every day, one pharmaceutical rep or another comes to meet with the Doctors in the office, and brings lunch for the entire staff. It's definitely a nice perk. There's usually a bunch of food leftover, which would otherwise be thrown away, so my Mother-in-law (who also works there) usually packs up a bunch of it for me to take home. Nice! Tonight I brought home the leftover green beans from today's lunch, as well as an entire tray of peach cobbler. I had planned on making green beans this evening, anyway, so it was great to just eat the leftovers from work instead. They aren't the prettiest green beans, but they were still good!