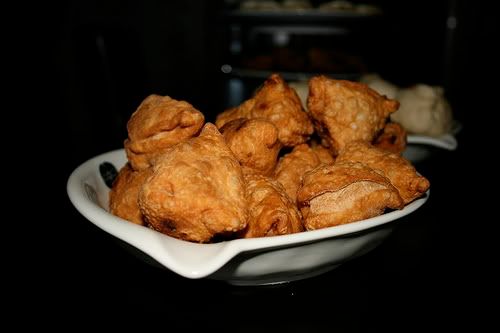 Pastry
1 cup all-purpose flour
2 tablespoons vegetable oil
Filling
2 large potatoes, peeled, diced and boiled until soft
1 onion, chopped
2 green chilies, very finely chopped
3 tablespoons oil
1/2 teaspoon ginger, grated
1/2 teaspoon garlic, crushed
coriander seeds
1 tablespoon cilantro, finely chopped
1/2 lemon, juice of
1/2 teaspoon turmeric
1/2 teaspoon garam masala
1/2 teaspoon red chili powder
salt
Mix together the flour, oil and salt. Add a little water, until mixture becomes crumbly. Keep adding water, kneading the mixture till it becomes a soft pliable dough. Cover with a moist cloth and set aside for 20 minutes. Beat dough on a work surface and knead again. Cover and set aside.
Heat 3 tbsp oil. Add ginger, garlic, green chillies and few corriander seeds. Stir fry for 1 minute, add onions and saute till light brown. Add cilantro (fresh coriander), lemon juice, turmeric, red chilli, salt and garam masala. Stir fry for 2 minutes. Add potatoes. Stir fry for 2 minutes, mashing the potatoes. Set aside and allow to cool.
Divide dough into 10 equal portions. Use a rolling pin, roll a piece of dough into a 5" oval. Cut into 2 halves. Run a moist finger along the diameter.
Roll around finger to make a cone. Place a tablespoon of the filling into the cone. Seal the third side using a moist finger. Deep fry the samosas on low to medium heat until light brown.
Serve with tomato sauce or any chutney you love.