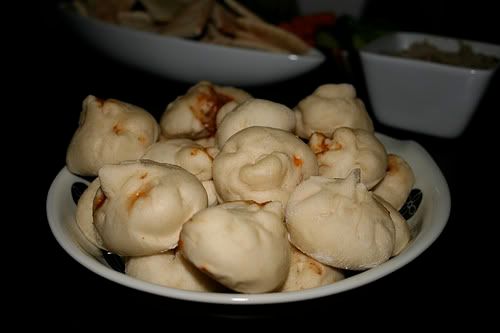 I made some of these tasty steamed Chinese buns for our last party in Japan. I steamed than in my Le Creuset dutch oven, on a rack that I had wrapped in foil to prevent water from splashing on the buns. It worked like a charm! The last time I made these, I steamed them in my mini rice cooker, which worked great, but it could only hold 3 or 4 at a time. The dutch oven made short work of it, and that's the way I'll do them from here on out.
I use a recipe I found on allrecipes.com, and just fill them with a teaspoonful of Lloyd's bbq chicken. I know, I know...it's tacky, but I love Lloyd's bbq, and the buns are delicious! The kids go nuts for these.
Chinese Steamed Buns
If desired, you can stuff these with any number of fillings. The easiest is just shredded chicken or pork with BBQ sauce (like Lloyd's brand). Make these as directed, but fill with a teaspoon of filling when shaping the buns.
1 tablespoon active dry yeast
1 teaspoon white sugar
1/4 cup all-purpose flour
1/4 cup water
1/2 cup warm water
1 1/2 cups all-purpose flour
1/4 teaspoon salt
2 tablespoons white sugar
1 tablespoon vegetable oil
1/2 teaspoon baking powder
Mix together yeast, 1 teaspoon sugar, 1/4 cup flour, and 1/4 cup warm water. Allow to stand for 30 minutes.
Mix in 1/2 cup warm water, flour, salt, 2 tablespoons sugar, and vegetable oil. Knead until dough surface is smooth and elastic. Roll over in a greased bowl, and let stand until triple in size, about 2 1/2 to 3 hours.
Punch down dough, and spread out on a floured board. Sprinkle baking powder evenly on surface, and knead for 5 minutes. Divide dough into 2 parts, and place the piece you are not working with in a covered bowl. Divide each half into 12 parts. Shape each part into a ball with smooth surface up. Put each ball on a wax paper square. Let stand covered until double, about 30 minutes.
Bring water to a boil in wok, and reduce heat to medium; the water should still be boiling. Place steam-plate on a small wire rack in the middle of the wok. Transfer as many buns on wax paper as will comfortably fit onto steam-plate leaving 1 to 2 inches between the buns. At least 2 inches space should be left between steam-plate and the wok. Cover wok with lid. Steam buns over boiling water for 15 minutes.
REMOVE LID BEFORE you turn off heat, or else water will drip back onto bun surface and produce yellowish "blisters" on bun surfaces. Continue steaming batches of buns until all are cooked.